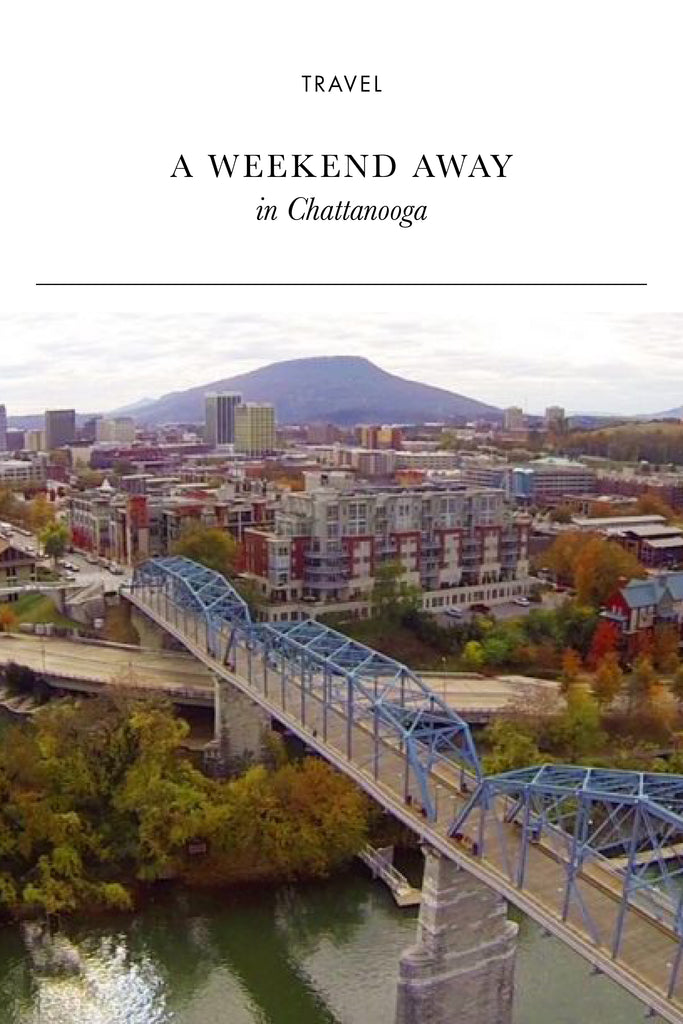 We just got back from such a fun adults-only weekend away in Chattanooga, TN. Here's what we did if you're looking to plan a similar trip. It's only two hours outside of Nashville!
Friday: 
We got into town a little late so we drove into the Bluff View Art District for dinner at Tony's. Everyone said the food was incredible and they were right! Bonus: We got a seat on the upper deck. The twinkle lights and Chinese Wisteria covering the pergola were dreamy. 
We walked around the area, soaking up all the charm. And then headed to the Hampton Inn for bed. 
Saturday:
We had breakfast at the
Daily Ration
(the chicken and waffles were
amazing
) and then headed off on our very touristy day. Sometimes you just have to do it!
Ruby Falls was the first stop. It was fascinating to hear the story of how Leo Lambert discovered this cave and giant waterfall in 1928 (and named it after his love, Ruby). It was an easy cave walk-- we marked this as somewhere to come back and show our kids one day when they're just a little older. 
Then we made our way to Rock City. It's a botanical garden with stunning views. I kept asking Robert what it would take to create something similar on our land ;) We grabbed lunch while we were there. 
Then we found the Incline Railway and rode it up to Lookout Mountain. The Railway wasn't particularly worthwhile, but we had a great time wandering through the local neighborhoods at the top of the mountain. 
At this point, we'd walked 6+ miles and were tired so we went back to the hotel to clean up and rest for an hour. 
Then dinner at
Alleia
. It was fun to get dressed up and enjoy a nice dinner. The pumpkin ravioli was wonderful! 
For dessert, we found
Rembrandt's Coffee
and sat underneath another wisteria covered patio until they kicked us out. 
Sunday : 
We had breakfast at Milk and Honey and then found some bikes to ride around the city. It was $8 for the day so we could hop on and off as we pleased!
Next we did something we'd never done before: Axe throwing at Valkyrie. And it was so fun. There was no one else there at noon on a Sunday so we had the place to ourselves. By the end, we were sweaty and proud of our new skill ha. 
The owner of Valkyrie suggested Slicks Burgers for lunch so we headed there next. I'm sure all the food was good, but all I wanted to eat were the truffle butter french fries. I'd go back just for those! 
Then another new activity: A Segway tour around the city. And I think we'd all agree that it was our favorite part! Our guide, Kevin, was hilarious and we had a great time exploring the city in a new way (capes on, and all). 
Before we headed home, we grabbed a little more food... of course. State of Confusion  had the best fried beef tacos. I'm still dreaming about them. And then we needed some Clumpies ice cream to eat on the ride home.