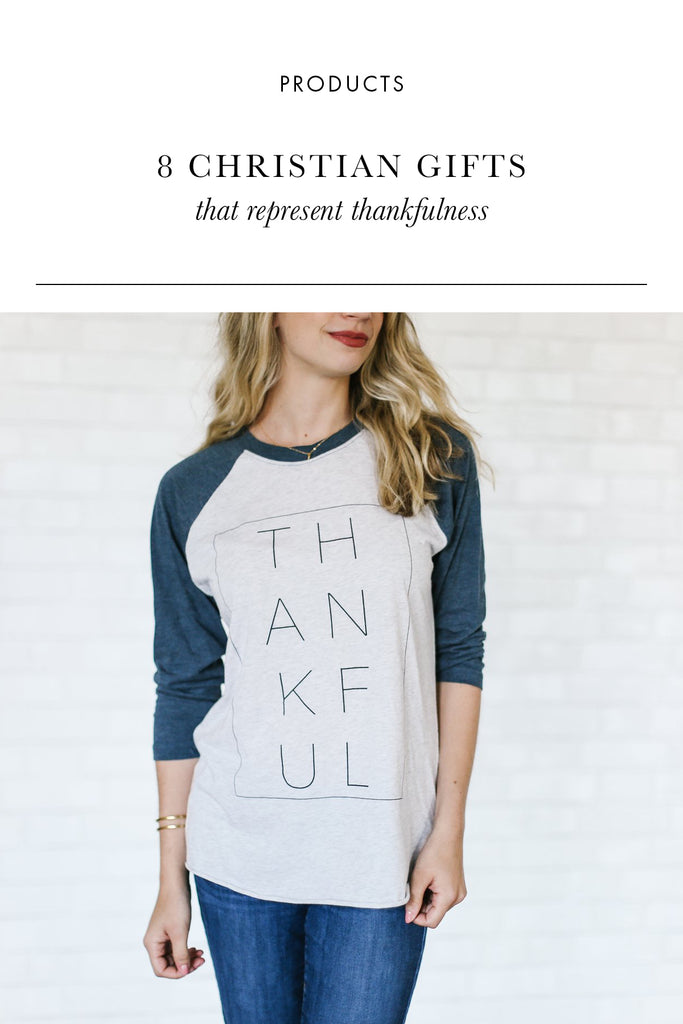 As we enter the holiday season and are encouraged to reflect on what we are thankful for, we're sharing 8 Dear Mushka gifts that represent thankfulness.
Purchase them for your loved ones or gift yourself a Christian piece that comes paired with a verse card to cherish and share.
The Thankful Tee
Give thanks to the Lord, for he is good; his love endures forever. · Psalm 118:1
There couldn't be a more perfect tee for this season of thankfulness - the Thankful Tee is a must-have! In the midst of incredibly joyful seasons (marriage! child! travel!) and incredibly hard seasons (pain, suffering, death), let us give thanks to Lord always and for everything. For His love endures forever. 
A perfect everyday tee to throw on over jeans or under your favorite flannel... you're not going to want to take this one off. 
The Brimming Necklace
For he satisfies the longing soul, and the hungry soul he fills with good things · Psalm 107:9
The Brimming Necklace is the counterpart to The Expectant Necklace, a piece of rejoicing as the semi-circle is filled. Perhaps a longed for child has been given, or perhaps it's simply been filled with the goodness of God himself. Whatever the circumstance, this we know: God will always be enough.
The Thank You Necklace
I thank my God every time I remember you · Philippians 1:3 
"Thank You" is designed in morse code for a fun and unique way to show a special person in your life how grateful you are for them. 
The necklace is beautiful, and the verse it comes with is even more lovely-- what a gift to let someone know you're praying for them when they come to mind! 
The Dwelling Tee
And I heard a loud voice from the throne saying, "Behold, the dwelling place of God is with man. He will dwell with them, and they will be his people, and God himself will be with them as their God · Revelation 21:3
The Dwelling Tee is the coziest tee you'll ever own. I guarantee, you won't want to take it off! Wear it alone or adorably layered under a warm cardigan or flannel. 
A beautiful promise to wrap yourself in all cold-weather long.
The Removed Necklace
For as high as the heavens are above the earth, so great is his steadfast love toward those who fear him; as far as the east is from the west, so far does he remove our transgressions from us · Psalm 103:11-12
The Removed Necklace is round to signify how far the east is from the west (eternal!) and the fading black spots remind us that God is washing us white as snow. 
Wear this piece and praise God for his unending forgiveness of your sins. 
The Citizen Tee
But our citizenship is in heaven, and from it we await a Savior, the Lord Jesus Christ · Philippians 3:20
The word "citizen" is written as a mirror image, resembling a foreign language to others but reminding you of your citizen standing when you look in the mirror. 
The Citizen Tee is the perfect soft & rosy tee, sweet on its own or layered under a cozy cardigan. I promise, you're going to love this one.
The Aroma Candle
"For we are the aroma of Christ to Cod among those who are being saved and among those we are perishing" · 2 Corinthians 2:15
The Aroma Candle
is now available in three different scents. The size is perfect for any shelf, side table, or desk and is lovely for burning year-round.
It would also make a precious hostess gift!
As you light it, our prayer is that you would think on your role as the aroma of Christ and bring His sweet scent to those you encounter in your day. 
A Thrill of Hope Sweatshirt
A thrill of hope, the weary world rejoices, for yonder breaks a new and glorious mourn! -O Holy Night 
Meet our first Christmas sweatshirt-- we couldn't love her more! 
Lyrics from the beloved hymn O Holy Night are printed on the softest sweatshirt you'll ever put on. 
Wear this all Christmas long, filled with the joy and hope that only Jesus brings.