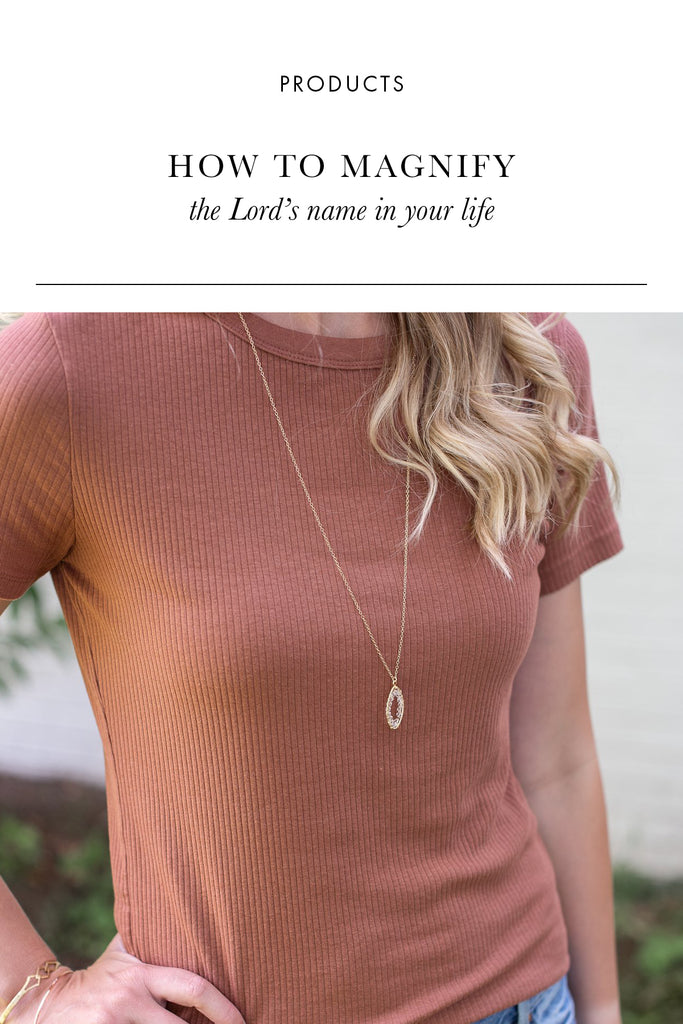 Long necklaces may not always be the best everyday necklace for those of us with little ones, but I believe there's still a place for a few in your jewelry collection. Think church, dates, social events, work, etc! If you don't have little kids, the Magnify Necklace might indeed make a great everyday necklace for you! Made of woven glass beads, this sweet dainty necklace is meant to resemble a little magnifying glass.
Psalm 34:3 is the first verse I put to a little tune and taught to my son. "Oh, magnify the Lord with me, and let us exalt his name together!" Psalm 34:3
We'd sing the words before we'd read the Bible to signify that the Bible is a different and extra special book. 
To magnify means to make bigger! As John the Baptist said, "He must increase and I must decrease". We are making God's name bigger in our hearts, homes and tongues.
Wear the Magnify Necklace on a date night and remember the purpose of being together - we aren't just enjoying one another - we're on a mission! Magnifying God through this relationship. 
The Magnify Necklace is shaped like a whimsical magnifying glass, as she calls to mind Psalm 34:3-- which is a verse I think about in all relationships.
In our marriages, may we magnify God's name together. As friends, can we spur on our sisters to run this race with praise in every step? As mothers, may we lead our children in exalting God's name. 
Pair this with a breezy tank and shorts or a fancy dress, you're going to love it with either! Wear it to church and think about the body of Christ magnifying God together.
It's a beautiful gift for a friend! Give it along with a note saying, "Sister, we're more than just girl pals! I love magnifying God with you as we run this race together!"
And thank you, friends, for magnifying the Lord with me in this space.