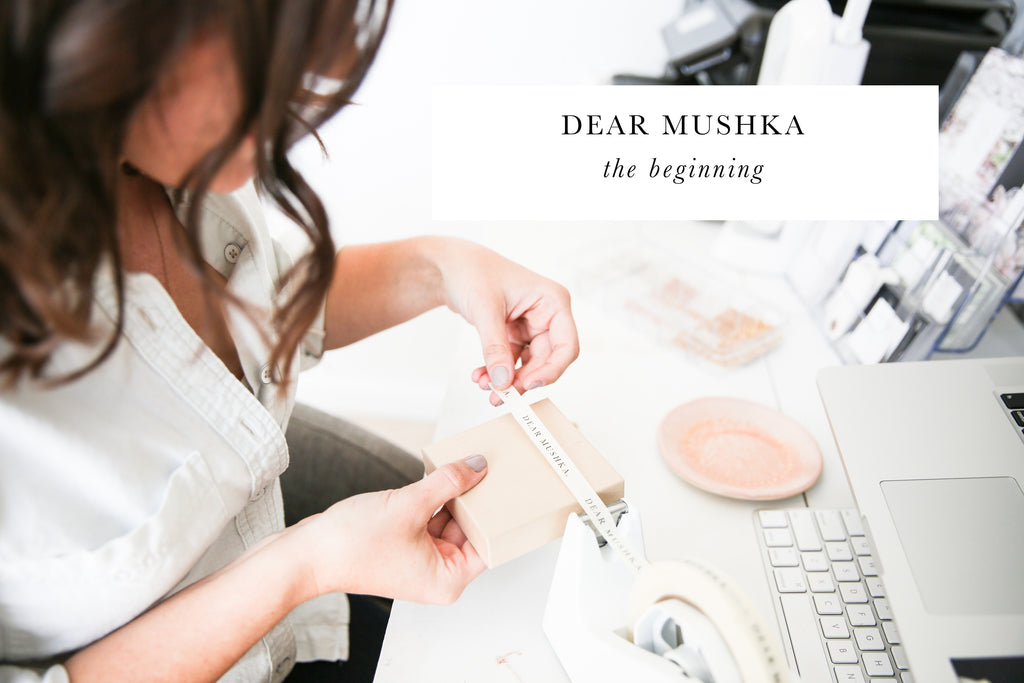 In 2010, my mother (the one who gave me the childhood nickname "mushka", passed away. She was the most beautiful woman I'd ever met and I was brokenhearted over the stories and wisdom that had passed away with her, untold. Right then and there, I began a blog to my own future mushkas, filling it with every photo and tale and lesson I could think of. It was a love letter, a way to keep this journey that God had specifically give me alive, and I was passionate about telling it. I'd encourage everyone I met to start a blog, to tell their story, knowing that whatever path they'd been on had a purpose and was worth sharing. We are created for community and there's no better way to build that than by being raw and real, by opening up and saying "this is where I've been and this is where I hope to go."
In 2013, Dear Mushka became a jewelry brand, seeking to raise money to bring home our first adopted child. It very literally became a love letter to our mushka as I worked over each necklace and said a prayer for his or her little life. Likewise, the idea of women telling their stories via blog transferred into women telling their stories in a new way. I recognized that what we chose to put on everyday was a personal decision; we were laying it close to our hearts or across our wrists and letting it say something. Why not let it tell our stories? I learned so much about running a business during this time and, though not without mistakes, found my small voice. 
In 2015, I began memorizing one promise from scripture a week and starting realizing how it impacted my actions as well as my thoughts. As I'd work on a necklace I'd think "Am I crazy? This looks like Isaiah 43:2!" and then I'd find myself thinking of that verse as I wore the jewelry around. It became a natural conversation starter with both friends and strangers, as they'd casually compliment the jewelry and I'd casually mention the inspiration behind it. The most important thing in my life was my relationship with Jesus, but I wasn't always great at speaking the truths I knew to other women; imagine my delight when I suddenly had an easy and approachable opener. 
Deuteronomy  6:6+ constantly swam around in my head and I knew that the third love letter was being born. We are to put the sweet instructions and truths we've been given everywhere; we are to teach them to our children and bind them on our necks and share them with others. That is where true joy is found and so Dear Mushka began attaching a corresponding scripture card to each jewelry item. The Plume Necklace came with Psalm 91:4, The Path Necklace with Proverbs 3:5-6. The cards were created to sit against a bathroom mirror or to be taped next to a computer screen so that the words could sink deep into our hearts and then flow out of our mouths as we wore the jewelry. To share the greatest love story this world will ever know. 
Now, we're doing this thing all the way! In 2017, we were able to adopt our second son through Dear Mushka's profits. Robert, my husband, joined the team full time. We hired our first employees because I could no longer manage on my own. And we are still loving every bit of it.
Thank you, thank you for being a part. We are incredibly honored you're here. xx 
SHOP THE COLLECTION HERE