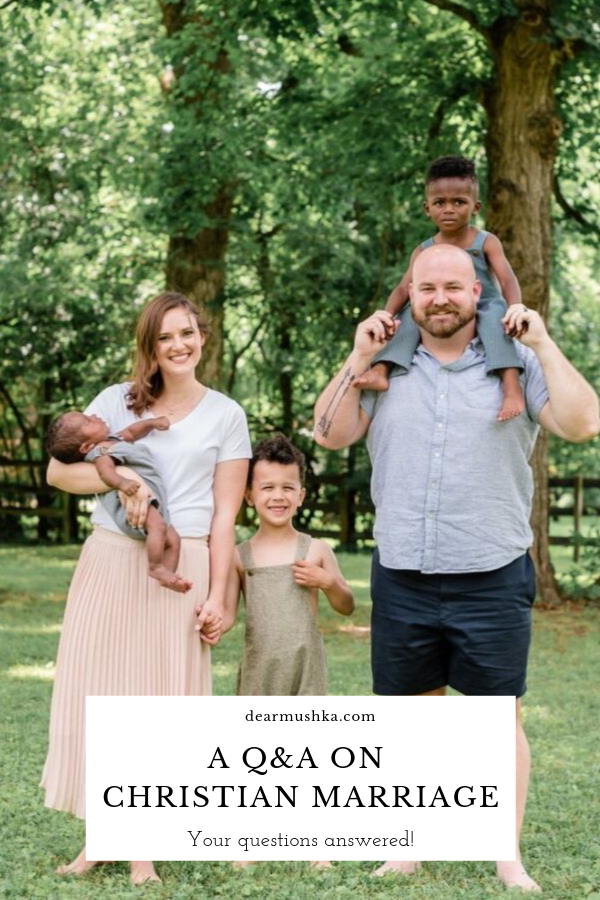 I asked the Dear Mushka Instagram community for questions for a Q&A the other day and received so many about marriage! Robert and I answered them over on my stories, which you can find here or simply read below.
In short, we are two simple people that God has brought together for His glory. We are not perfect and this is not a perfect marriage. The Lord constantly keeps us humble and real.
What's our dating story?
Robert and I met in college. I had recently broken up with the boyfriend I had followed to college and we met at the college ministry we were a part of. We talked for the first time at a football game. I wanted to talk to him to make another boy jealous - yes, I was 19 and not very smart! We started talking and really enjoyed our conversation so we decided to meet up another time.
We didn't officially start dating for a few months because I was silly and wanted to wait. We dated for a while and broke up just before Valentine's Day. But I just knew we'd get married. I don't know why, but I was pretty confident.
Robert was a new believer and really needed some time to grow. I knew we had issues to work on and was grateful for the time apart to grow. A few months later he came back around and our relationship did a complete 180! We dated for a few months, got engaged and married in 2010.
I love that our dating story is beautifully imperfect, just like us!
How do you know who you are supposed to marry? Is the right spouse just about finding someone who loves the Lord?
It's more than just finding someone who loves the Lord. Love for the Lord is a great starting point but there can be more to it. God can work through all marriages (even if you are married to a non-believer), but if you're choosing a spouse look for someone who wants to pursue the Lord fully.
Marriage is too hard not to like the person you are married to. There are seasons and you've got to fight for what you want to be true. You've got to like the person, want to be around them and see the potential in them.
It's easy for women to come up with a check list for what you want in a spouse and sometimes the Lord can work through that. But ultimately, don't limit God to what you think you need. God gives us wisdom! He is for marriage and He is for Christian unions and He will lead us to the right person.
I think He gives us peace when it's a yes and discomfort when it's not right. This doesn't mean that the "right person" doesn't mean you won't have trial and suffering in your marriage! But the Lord will give you peace and wisdom when you call out for help.
Find someone who's imperfections you can live with. Don't count on change. Can we commit to loving the person in front of us and the person they will become?
Marriage is also not the goal of the Christian life! The Lord works through both marriage and singleness. We still feel lonely, angry and sad in marriage. God is our only hope and lasting joy!
Advice for newlyweds?
If there is frequent bickering (not real issues), you might not be having enough sex? God uses it to form real intimacy. Pray for it and work towards loving one another in that way. I received this advice as a newly wed and it was so helpful!
Also, learn one another. It can be through the enneagram, another test or studying one another. Know that you and your spouse are very different people. You'll give so much more grace when you understand someone else's why.
Protect what your spouse is walking through. Your husband does not need you to go behind his back about what he is struggling with. If it isn't a big issues, speak uplifting words about your spouse. Be champions of each other's sanctification. If you need prayer for your marriage, make it about YOU.
How do you handle differences of opinion on big matters?
Adoption is the biggest difference we've ever had. I felt called to adoption and Robert didn't. In those situations, commit to praying. God isn't trying to cause discord between the two of you so seek His wisdom. Ask for a heart that's willing to submit and respect your husband.
Still talk about big decision and as best as you can, don't move forward until you can agree. Don't let yourself be resentful at your spouse.
What to do when one person is pursuing God more than the other?
We've experienced this in our marriage and it's important to learn that your relationship with God will look different than your spouse's. Robert is never going to have lifetime goals, prayer journals and do everything that I do in my quiet time with the Lord.
Make sure you are giving grace for a person to grow differently than you. Different isn't wrong or less then.
No man has ever been nagged into pursuing the Lord. You can pray in times of need for your spouse - pray for wisdom and guidance and strength until your spouse is ready to pursue the Lord again. That's what you do!
Everything is an opportunity to humble yourself and rely on the Lord. Make the goal for everyone to love God more (all of us need to love Him more) because He is worthy of our praise and love!
I hope this was helpful, to hear two very real people talking about marriage! You can catch the video of Robert and I discussing our marriage here. Follow along on Instagram where we post our monthly Q&A's, answering all of your questions.