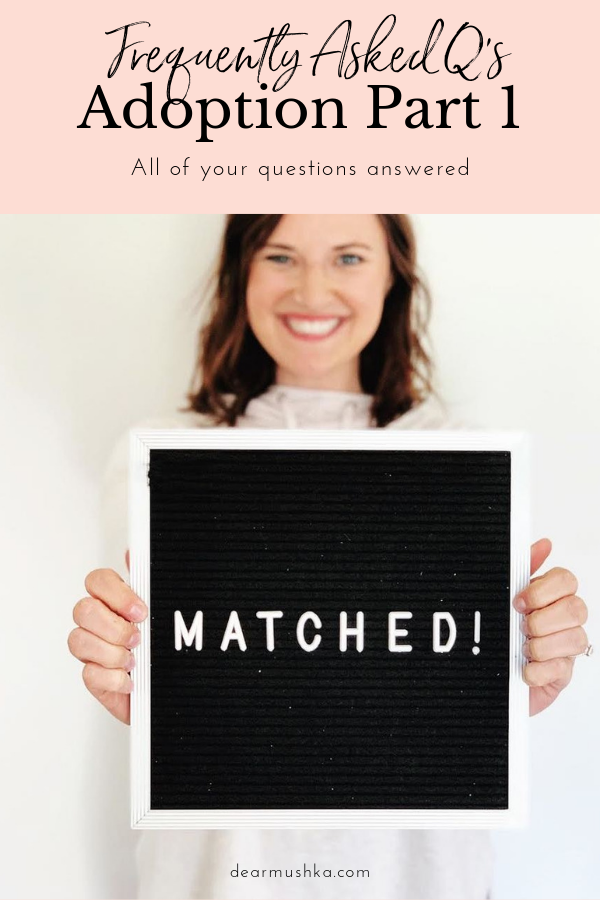 Recently, I asked my Instagram community if they had any questions for me, a two time adoptive mama, and the responses flooded in. And oh sisters, I get it! Adoption can be a really intimidating process. 
I'm going to do my best to answer these questions, but please remember this is our family's story, only. Take what is helpful, skim over the rest. And mostly, trust in our Big God who promises to instruct, teach, & counsel with his eyes upon you [Psalm 32:8] If He has called you to this, He will absolutely see you through it. 
Alright! Prepare to read. 
_____________
1. Did we always want to adopt? Were we always on the same page?
The short answer is: no, and no
The longer answer goes something like:
There are people who grow up with a passion for adoption, and neither Robert nor I were one of those people. Adoption had literally [and sadly] never come up in conversation over the 6ish years we'd known one another... so imagine my surprise when God used a random show on PBS to whisper to my heart: "you will find your first child through adoption." And imagine Robert's surprise when I told him the same. 
For a solid year after that, Robert was not on board. It's not that he didn't like adoption in theory, it's just that neither of us had grown up around it and pursuing it as a plan A for growing our family felt abnormal and scary. We went through all the typical concerns our world screams at us. Didn't we want "our own" children first? [Eeesh] Where would we even start? What if the child was addicted to drugs? What if the birthmother changed her mind? What if the child was a different race than us? 
It was the first time we'd disagreed on something major in our marriage & the first time I had to pray consistently for a clear answer. The growth that came from that process, alone, was life changing. Looking back, I'm so grateful for that year; I learned how to lean on the Lord, how to seek His answer, how to patiently wait, how to respect my husband in the midst of disagreement, etc.
Sanctification, baby. 
2. What did we do once we decided to pursue adoption?
After a year of praying for clear direction & unified hearts within our marriage, The Lord kindly changed Robert's heart. And then we had a lot of decisions to make :) 
After Googling "how to adopt in TN" and feeling incredibly overwhelmed with the information available, we prayed in faith that God would make our next steps clear. At that time, we weren't doing life with anyone who had adopted so I talked to the one distant friend I knew who was in the process. She told us the home study group & agency her family was using and we said "sounds great!" and contacted them right away. 
For our first adoption, we signed up with Faithful Adoption Consultants but ended up adopting our sweet Brooks via private adoption through a connection from church. [That's another story but essentially, right before we signed on with FAC someone knew someone who was pregnant and we said YES.] For our second adoption, we signed up with FAC again and completed the adoption through them. 
3. What is a consultant group? Is that like an agency? 
An adoption consultant group is kind of like a middle man between you and an agency. Instead of being one agency themselves [something like Bethany], they work with multiple agencies.
The Pros: You're usually matched with a child more quickly because your name is out there more often. They're incredibly helpful and kind when you might otherwise feel very alone in the process.
The Cons: It tends to be more pricey-- You have to pay them a fee [it was around $2k when we did it] and then might get matched with a birthmother who is part of a more expensive agency. The agency might be out of state [rather than choosing something in-state like Bethany], which comes with additional fees like travel and accommodations.  
4. How did you make certain decisions like age, race, domestic vs international, fostering to adopt vs an agency, etc?
These questions feel extra hard because they aren't decisions that need to be made when you're growing your family through biological children; they're unnatural! 
For us, we never felt drawn to a country outside of America. There are children in our backyards that need homes and we loved the idea of meeting & knowing our children's birthmothers. [And yes, were also pretty intimidated by that idea!] 
Our hearts were ecstatic at the thought of adopting children of a different race who would reflect the beauty of Heaven, but we also knew issues would eventually come up as a interracial family. We decided to say "yes" to anything and trust that God would give us wisdom as we needed it. And he's been faithful to do so!
Every state is different, and fostering to adopt is not the main way people adopt young children in Tennessee. Here, the goal of foster care really is reunification with their biological family. At the time, we knew we wanted to grow our family with small children first and didn't think it would be fair to enter into the foster care system with that goal in mind. But every state is different! And we'd love to do foster care one day. That just wasn't the time. 
5. How long did it take? How did you trust God during the wait? And what does that process look like?
Every adoption is completely different here. The short answer is that we were able to bring both our boys home in a shorter amount of time than I could have grown a baby. Part of that was because we chose to use a consultant group [see above], part of that was how open we were to race and minor health concerns-- we weren't looking for a 100% healthy white baby. And a lot of it was just the way God chose to write our story. 
It can be so hard to sit at home with your arms and heart open, while you're seemingly not making any progress. I repeated verses to myself about God being the one to bring justice & care to the orphans. Verses about endurance, patience, faith, etc. 
And I love this quote from Russell Moore in Adopted for Life: "There's something about patience that God deems necessary for our life in the age to come and so, whether through agriculture or discipleship or bodily development or eschatology or procreation, God makes us wait" 
As far as the process goes, you generally "go active" after your home study is complete [don't fear that part at all!] and you've made some sort of profile book-- a book full of pictures and some words for birthmothers to look at as they consider their prospective adoptive parents. Once you're active, your profile book is shown to birthmothers who meet your criteria (max adoptive fees, health, race, etc). When you're chosen, you receive a call from your agency. And you happy dance big time. And probably freak out for a minute.
6. How much did it cost? How did you fundraise? 
So many people asked this question and I totally understand- I imagine costs are one of the biggest reasons people decided not to pursue adoption.
For our first adoption, we used the funds from Dear Mushka [a small Etsy shop at the time] & we sold puzzle pieces to a 1,000 piece puzzle for $40 each. Your name went on the back of the piece when you bought it, and the puzzle hangs in my son's room to this day. I posted updates on Facebook to keep people in the loop and friends loved us so well. In the end, God gave us $12 more than we needed for our adoption. We bought burgers :) Because this adoption ended up being a private adoption through church friends it was well under the average cost. 
For our second adoption, we sold t-shirts and used the income from Dear Mushka to fund the whole thing [giant hugs to you if you helped support us in this!] Because we used Faithful Adoption Consultants, got paired with a pricey agency, bought last minute plane tickets, had to stay in another state for two weeks, etc. this adoption was well over the average cost. 
But you know? God provided everything we needed both times. And I think he loves doing that, reminding us that he is the owner of all funds and showing off when we are weak and needy. Which we definitely were. 
I clung to this verse: "And God is able to make all grace abound to you, so that having all sufficiency in all things at all times, you may abound in every good work." -2 Corinthians 9:8
Ultimately, DO NOT let finances be the reason you tell God no if He is calling your family to adoption. Trust him as the creator and sustainer of all things. Tell him your fears! Ask him to provide. And watch him lavish you with gift upon gift. I have yet to meet a family who said they weren't able to pay for their adoption when God called them to it. 
And remember, your life is not compartmentalized into times God is working on you to become more like Him and times He is not. God promises to complete His good work in you [Phil 1:6], which means He will use things like adoption to do so. Praise Him for growing your faith & ridding your heart of sin in the process!
[Note: We didn't go this route, but I know there are tons of adoption loans, grants, etc too. I imagine a local adoption agency would be really helpful here.]
7. Okay, I'm definitely interested-- what do I do next? 
If you haven't read Adopted for Life, I can't recommend it enough. For everyone, adopting or not! It's such a beautiful book about how we're all adopted into God's family and is packed with helpful truths. I was shocked at how many adoptive terms I'd been saying incorrectly. [Example: "own children" or "are they REAL siblings"]
I'm blanking on the statistic, but something like 60% of families want to adopt and only 2% do. Satan has his hand in this, y'all! Talk to anyone who has adopted, ask your pastor if someone in your local church can be a good reference, or just give a local agency a call. If someone works in the adoption world, chances are they love it and will be more than happy to answer all your questions. I called one agency before Robert was even on board and said "I have no idea what I'm doing but if we decide to adopt, what would our next steps be, just out of curiosity?" She was so helpful!
And ultimately, stay in the word. Pray, pray, pray. Pursue Christ, and the rest will fall into place. 
I'm going to split this up into two parts. The "post adoption" FAQs coming next!