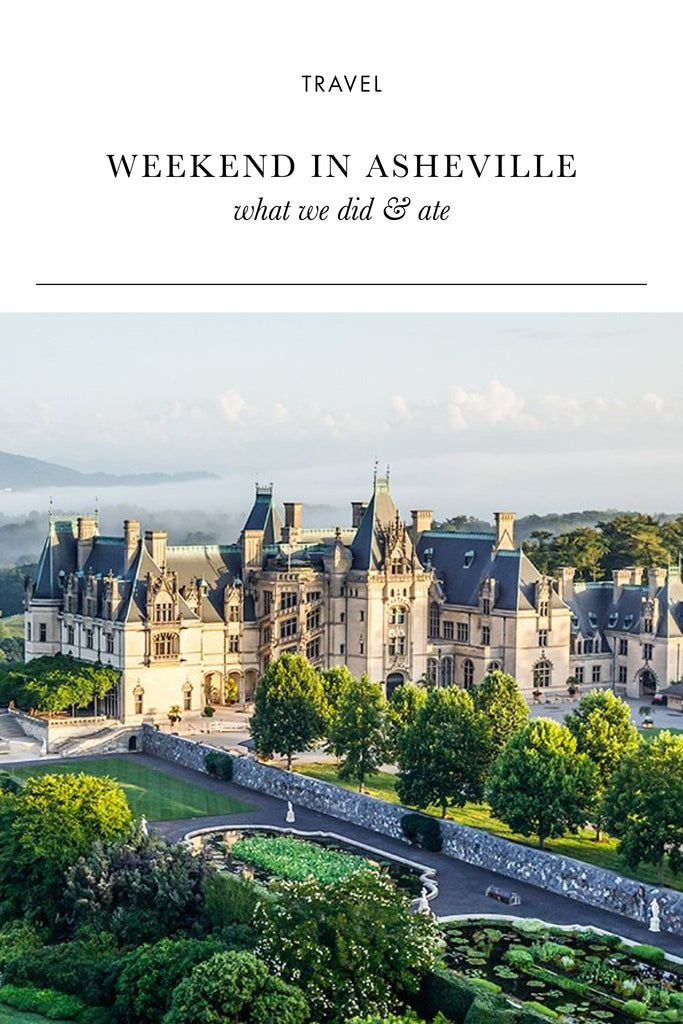 This weekend, Robert and I took an early anniversary trip (ten years!) to Asheville, NC. It felt like the perfect blend of relaxation & things to do and we had the best time.
Here's what we did!
Thursday:
Checked into the Cambria Hotel in downtown Asheville. It was in a wonderful location, had valet parking, and boasted really cool brick wallpaper inside. They also gave us a little honey pot at checkout :) 
Had dinner at Carmel's right across the street in the Grove Arcade. It wasn't our favorite meal, but it was good!
Walked around downtown, amazed at all the live music out on a Thursday night and how clean the streets were. It's an adorable little city. 
Had dessert at the French Broad Chocolate Lounge. The Creme Brulee was amazing and the vibe there was really special. 
Friday: 
The Biltmore! We both visited about five years ago, but Robert was fresh off a knee surgery and I had a newborn strapped to me so it wasn't the finest experience. This time, we had an early entry time to beat some of the crowds and enjoyed being there in an off season-- there was plenty of room to meander, slowly listening to the audio tour and taking it all in. 
Then we did the gardens which, you know, I adored. They were inspiring for my own gardens back home, and had both of us worshipping God for His creation. I'd love to go back in the Summer! 
Lunch at Stable Cafe was unexpectedly wonderful. Dare I say these were the best pork nachos of my life? 
The Downton Abbey exhibit was a the Biltmore during our trip, so we soaked it all up. The sets and costumes were so fun to see in person. 
Also: Ice Cream! 
All in all, we were on the property about seven hours; it was definitely a whole-day experience. 
Then we had dinner at Tupelo Honey. There's one near us at home, but they change the menu to match the local cuisine so we enjoyed new food options. It was wonderful, as usual. 
Saturday:
We debated zip lining, but didn't want to dedicate a whole half of our day to it on this trip. Instead, we had breakfast at Sunny Pointe Cafe, which didn't disappoint. It was the only place we had a wait (about twenty minutes) and we heard multiple people say the wait is normally much longer. I got the chicken and waffle sandwich and Robert got the french toast with a side of the best bacon ever. We'd go again for sure. 
The Antique Tobacco Barn was the on my short list of things to visit, and we had a great time exploring inside. There is so much to sift through, but we walked away with a few winners (including my first garden ornament-- a beautiful concrete lighthouse someone tried to buy from me as I left. Ha!)
There was a park nearby that follows the French Broad River so we walked around like the locals do. It was beautiful.  
Then we went back to the hotel, where I proceeded to take a 3.5 hour nap. I don't ever get that opportunity at home with three littles so I soaked up every bit! 
Dinner was at the Red Stag Grill and it was mouth-watering good. It's like a fancy hunting lodge with great meat; we basically licked our plates clean. 
We drove around exploring a little more and then curled up to watch movies in bed, as one should always do in a hotel. 
Sunday: 
Breakfast at Biscuit Head per everyone's recommendations. And of course, it lived up to the hype. I wish I could eat it right this moment, in fact :) 
Then we loaded up, kissed Asheville goodbye, and drove back home to our babies. It was a wonderful long weekend-- I imagine we'll do it again sometime!