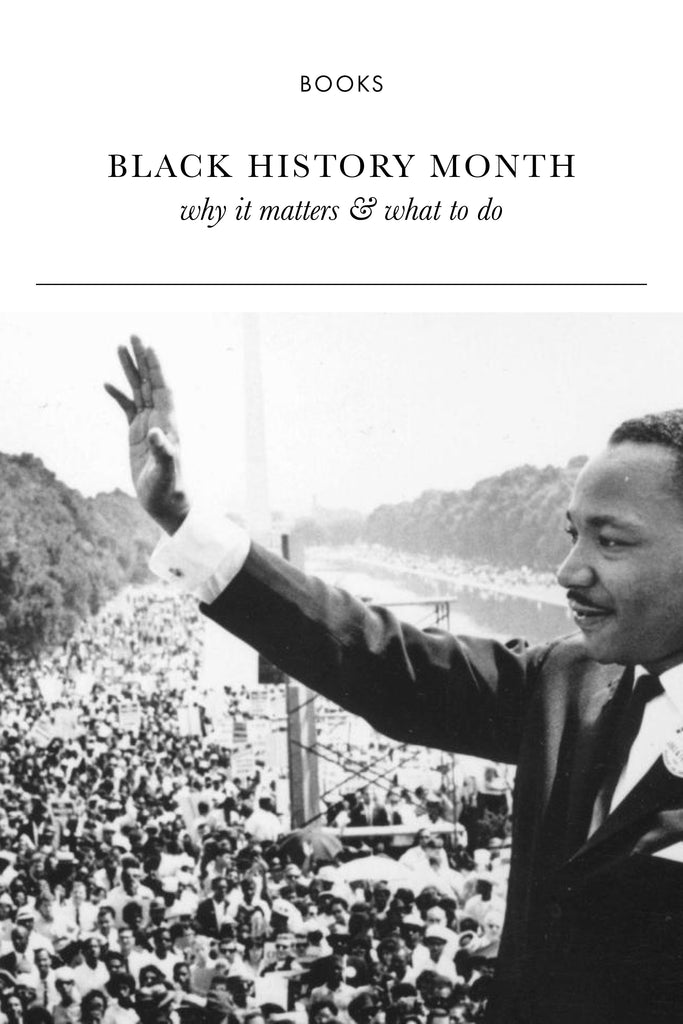 Last year, I read The Color of Compromise and something awoke in me. I already had three black sons and knew that our country was still a dangerous place for them (a problem!) but I had not known, up until that point, the ties between slavery/racism & Christianity. I think there'd always been a part of me that denied any connection with racism ("my family didn't have slaves") when it turns out my family-- my Spiritual family-- was the worst offender. 
From there, I began to tune in and listen to those far more wise than myself. I jumped into a Be the Bridge group here in Nashville. I started reading books about racial reconciliation, books by black authors, books about the history that I was never taught in school. And I began to understand that this issue of racism is not only far from over, it is deeply imbedded in so many of our hearts and minds (whether we want it to be or not) and must be battled if we're to love our fellow image bearers of God well. 
With Black History Month approaching, I wanted to share some ideas for honoring it in your home-- especially if your household is dominantly white. I know that those of us with light skin have far more power than we may even realize. And as Spiderman taught me (says the mom of three boys): "With great power comes great responsibility" 
-----
1. Read. Read books about racial reconciliation, read books by black authors, read novels set in a time period when slavery was still legal or Jim Crow was in full effect. 
Introduce people of different ethnicities into your children's books (along with media, toys, etc) After all, race is not something that can be parented in neutral. 
Here's a page that has some of my favorite books on this topic all in one place.
For adults, I'd start with Be the Bridge by Latasha Morrison-- a soft intro into the issue, written by a beautiful Christian woman. She's who began the Be the Bridge Groups I'm a part of. From there, I'd suggest White Fragility and then The Color of Compromise. 
For children, I love all the books listed in the link above but I also encourage you to go to your local library. They'll probably display lots of books on Black History so you don't even have to search!
2. Watch Movies. Here are some ideas to get you started. Consider watching one every week during February. 
Click photos for direct links
Selma, staring Cuba Gooding Jr. and Oprah. $1.99 rental on Amazon Prime
The Watsons go to Birmingham: One geared towards kids. Could be a great one to watch as a family! $4.99 rental on Amazon Prime
The Color Purple: Directed by Steven Spielberg. I'd like to watch this one this year. $3.99 rental on Amazon Prime
Harriet, an incredible movie about Harriet Tubman. We saw this in the theater last year and loved it. I just see it for purchase on Amazon, but you may be able to find a rental elsewhere. 
The Help: One you've probably read or seen. Watch it again and dialogue with your people! $3.99 rental on Amazon Prime
12 Years a Slave: Another I'd like to watch this year. $3.99 rental on Amazon Prime
Remember the Titans, Hairspray, To Kill a Mockingbird, and Hidden Figures are other ones that come to mind.
Also, consider watching the shows When They See Us and This is Us. 
3. Listen. Listen to podcasts-- I suggest this one and this episode. Listen to people of color around you. Find a group made up of different races like Be the Bridge and jump in, more ready to listen than to talk.  
Additionally, be willing to weep and mourn with those who do so (Romans 12:15)
4. Go somewhere to learn more. Visit a museum (this page allows you to search Black History museums by state! One day I'd love to visit the one in D.C.) Attend a MLK walk. Google "Things to do for Black History Month in my city" and try one. I understand that these actions take energy, but people who know far more than me say they're worth it. If you live in the South, I'm confident there are places around you.
Could your friends or family do one activity together this month? Perhaps even serve in an area of need around your city that focuses on loving black people well. A financial donation would also be powerful. I'm accepting the challenge! 
5. Pray. Pray that God would allow His Kingdom to come here as it is on Heaven, which includes equality for all peoples and nations. Pray for any racist sin of yours to be revealed (and be humble enough to admit that there's probably some there). Pray for wisdom on how you can use the white skin God has given you to help your brothers and sisters.