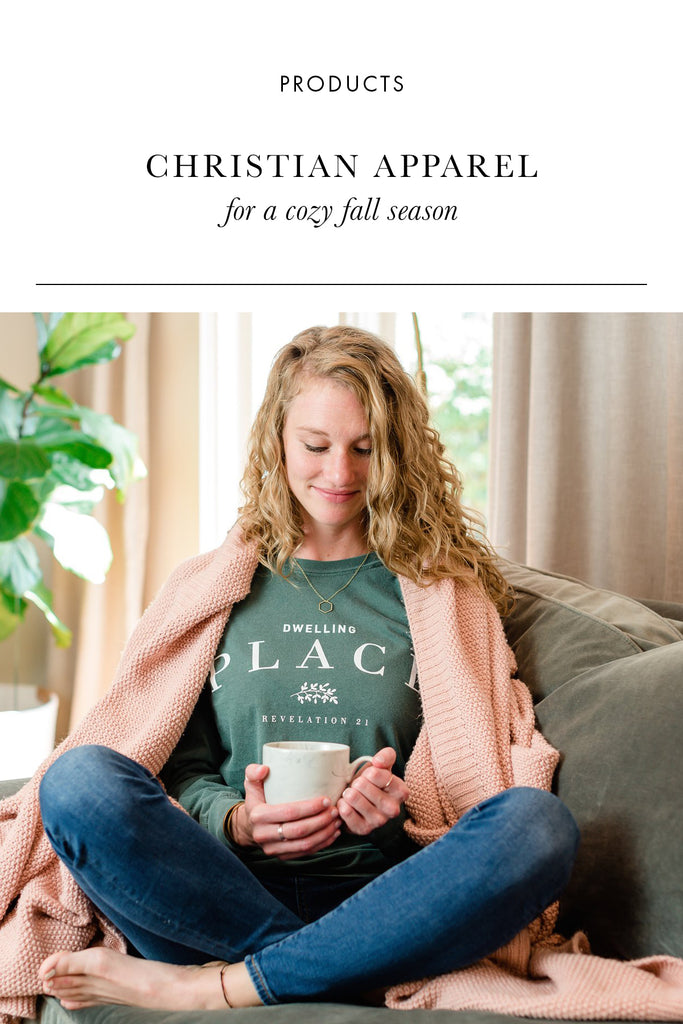 Cooler weather calls for us to bring out cozy sweaters, tees and accessories as we appreciate beautiful Autumn days and prepare for the coming winter.  However you wear these Scripture-inspired pieces, spend time praising God for giving us His Word, and for His love that remains faithful in the midst of incredibly joyful seasons (marriage, children, travel) and incredibly hard seasons (death of a loved one, suffering, illness). His love endures forever.
The Warrior Tee
Like arrows in the hands of a warrior are the children of one's youth. Blessed is the man who fills his quiver with them · Psalm 127: 4-5
Meet our first men's tee! A reminder that we are to mold and shape our children to then shoot them out into the world, for God's Kingdom!
The Dwelling Tee
And I heard a loud voice from the throne saying, "Behold, the dwelling place of God is with man. He will dwell with them, and they will be his people, and God himself will be with them as their God · Revelation 21:3
This is the coziest tee you'll ever own. I guarantee, you won't want to take it off! Wear it alone or adorably layered under a warm cardigan or flannel. 
A beautiful promise to wrap yourself in all cold-weather long. 
On Earth Raglan Tee
Your kingdom come, your will be done, on earth as it is in heaven · Matthew 6:10
A crazy soft raglan tee that boasts words from Jesus as He taught His disciples to pray. May we put it on and remember that as image bearers of God, we are to work with Him to bring His holy and just Kingdom to Earth. Let's pray & then act, together.  This heather grey and dark charcoal raglan tee with black writing is printed locally in Nashville, TN.
The Abide Tee
Abide in me, and I in you. As the branch cannot bear fruit by itself, unless it abides in the vine, neither can you, unless you abide in me · John 15:4
A happy, pink tee with the sweetest reminder to abide in Christ daily. Need I say more? Bonus: It's extra long, perfect for layering over yoga pants! This soft heathered light pink tee has a relaxed fit for easy and comfy style.
The Better Days Hat
"He will wipe away every tear from their eyes, and death shall be no more, neither shall there be mourning, nor crying, nor pain anymore, for the former things have passed away." -Revelation 21:4
This year is proof that our world is broken. May we fix our eyes on eternity and praise God for the better days He has promised us! Click to shop this navy cotton hat with mesh backing.
The Thicket Tee
I am the vine; you are the branches. Whoever abides in me and I in him, he it is that bears much fruit, for apart from me you can do nothing · John 15:5
When our to-do lists are calling and we find ourselves striving to do it all on our own, The Thicket Tee is a much-needed reminder that we are only branches. For sweet growth & productivity, we must first tether ourselves to the true vine. It's only with Him that we can accomplish anything. 
On Sundays Tee
Then he said to them, "The Sabbath was made for man, not man for the Sabbath." - Mark 2:27
A soft & cozy tee, able to be dressed up for Sunday church and then tossed on over leggings for Sunday afternoon. However you wear her, spend time praising God for giving us a day of rest and use the day to put your security in Him alone.
Love One Another Hoodie
"A new commandment I give to you, that you love one another: just as I have loved you, you also are to love one another. By this all people will know that you are my disciples, if you have love for one another." -John 13:34-25 
A forest green hoodie you're going to want to snuggle up in daily, with a message we all need to hear. Let's praise Jesus for His example, and show the world what it means to be a disciple of Christ. Love.  
The Adorn Hairtie
"Let your adorning be the hidden person of the heart with the imperishable beauty of a gentle and quiet spirit, which in God's sight is very precious." - 1 Peter 3:4
These sweet hair ties are easy to wear, and come with a precious reminder to adorn yourself with a gentle and quiet spirit before anything else.
They'll add the perfect amount of style to your everyday outfit! This versatile 3 in 1 design means you can tie the scarf into a bow or remove the scarf all together to have a scrunchie and ribbon. Available in five colors.