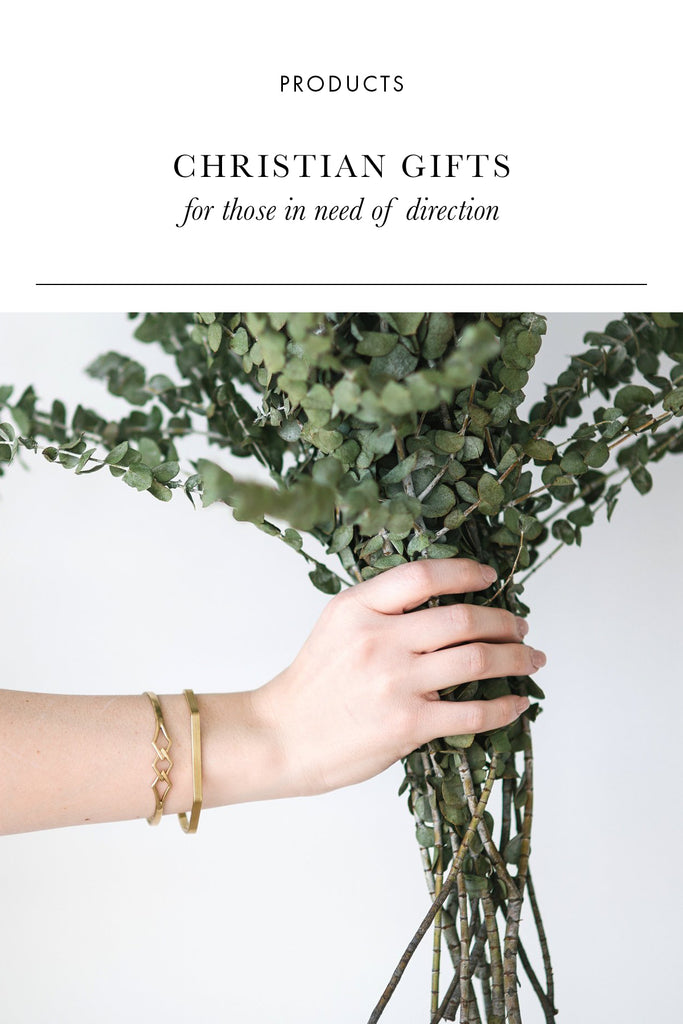 We all need a little help finding our way sometimes. These handmade jewelry pieces that come with carefully chosen Scripture passages encourage us to look to God for help and direction. 
The Parallel Cuff 
A personal favorite, this verse has helped me time and time again.
You make known to me the path of life; in your presence there is fullness of joy; at your right hand are pleasures forevermore · Psalm 16:11
Two parallel lines follow one another around your wrist, calling to mind the truths in this psalm. When we trust God and keep our path in sync with His, there we meet the greatest joy. Place this on your right hand and remember where pleasures forevermore lay.
A perfect minimal bracelet for anyone in need of a little guidance and a little arm shine.
The Guide Necklace
A reminder that God gives instruction and counsel.
I will instruct you and teach you in the way you should go. I will counsel you with my loving eye upon you · Psalm 32:8
The Guide Necklace mimics an eye as a reminder that God sees us and offers counsel and instruction in our every day. We don't have to go it alone; we have the wisdom and guidance of the Holy Spirit with us, always!
The Ambassador Necklace 
Because you are chosen & on mission…
But you are a chosen race, a royal priesthood, a holy nation, a people for his own possession, that you may proclaim the excellencies of him who called you out of darkness into his marvelous light · 1 Peter 2:9
Read this verse slowly, sister. You are chosen, royal, holy, & called. When you wear The Ambassador Necklace, never forget your identity in Christ. And as the disks catch & reflect the light, boldly proclaim the "excellencies of him who called you out of darkness into his marvelous light" to those around you. 
The Vision Cuff 
Keep your eyes on God.
I keep my eyes always on the Lord. With him at my right hand, I will not be shaken · Psalm 16:8
Three diamonds hook together to create "Vision", a timeless brass cuff meant to turn your eyes towards God.
Slip it on your right hand and trust that you won't be shaken.
A Citizen Tee
A dear reminder that this world is not our home
But our citizenship is in heaven, and from it we await a Savior, the Lord Jesus Christ · Philippians 3:20
This soft tee bears the word "citizen" written as a mirror image, resembling a foreign language to others but reminding you of your citizen standing when you look in the mirror. 
The Path Necklace
"Trust in the Lord with all your heart, and do not lean on your own understanding. In all your ways acknowledge him, and he will make straight your paths." -Proverbs 3:5-6
When decisions are confusing and wisdom is lacking, The Path Necklace seeks to turn your heart towards the best map full of real direction and solid guidance.
Look up, sweet sister, and then put one foot in front of the other as you walk your road alongside the Lord. 
The Aim Necklace 
To help remind you where your focus should always stay.
Whatever you do, work heartily, as for the Lord and not for men · Colossians 3:23
Gift the Aim necklace to the girl who is swimming in laundry and child-rearing or studying and career launching or world traveling and people meeting: Whatever your day finds you doing, sister, aim it all towards the Lord. When He is the recipient of our energy we will find sweet joy and contentment, and our work will never be in vain. 
A Philippians 4:8 Art Print
To direct your thoughts
Finally, brothers and sisters, whatever is true, whatever is noble, whatever is right, whatever is pure, whatever is lovely, whatever is admirable--if anything is excellent or praiseworthy--think about such things. · Philippians 4:8
A ready-to-frame print made for an eternity-focused home.
The Priority Ring
A reminder to seek His Kingdom first, the rest will fall into place.
But seek first the kingdom of God and His righteousness and all these things will be provided for you · Matthew 6:33
In a world of social media and to-do lists constantly calling for your attention, the Priority Rings offer an alternative direction for your hands. Seek first the kingdom of God (His face, desires, word, voice, reign); the rest will fall into place. 
The Gospel Necklace
Because no matter what, how beautiful are your feet when you live on mission. 
How beautiful on the mountains are the feet of those who bring good news · Isaiah 52:7
The Gospel Necklace is full of imagery. Two feet ready to walk out into the world, a mountain, an arrow. In any case, how beautiful is the girl who brings the Gospel to those in need. Share it boldly, sisters!
The Steward Bracelet
A call to use your gifts for God's kingdom and glory. 
Each of you should use whatever gift you have received to serve others, as faithful stewards of God's grace in its various forms · 1 Peter 4:10
God has made each of us to reflect His image in unique ways. Stamp the underside of the Steward bracelet with your initial, enneagram number, etc., and use what you've beautifully been given for His glory and Kingdom.
The Renew Earrings
A reminder to conform to Christ, not this world. 
Do not be conformed to this world, but be transformed by the renewal of your mind, that by testing you may discern what is the will of God, what is good and acceptable and perfect. · Romans 12:2
The Renew Earrings are playful and fun and stand out a little from the products we normally carry- a perfect example of this verse in Romans. Sister, do not conform to this world; instead, let God renew your mind and show you His good and perfect will. 
As you slide these beautiful tassel earrings in (resembling little brooms!) think about your mind being swept and renewed through the The Holy Spirit & God's Word.