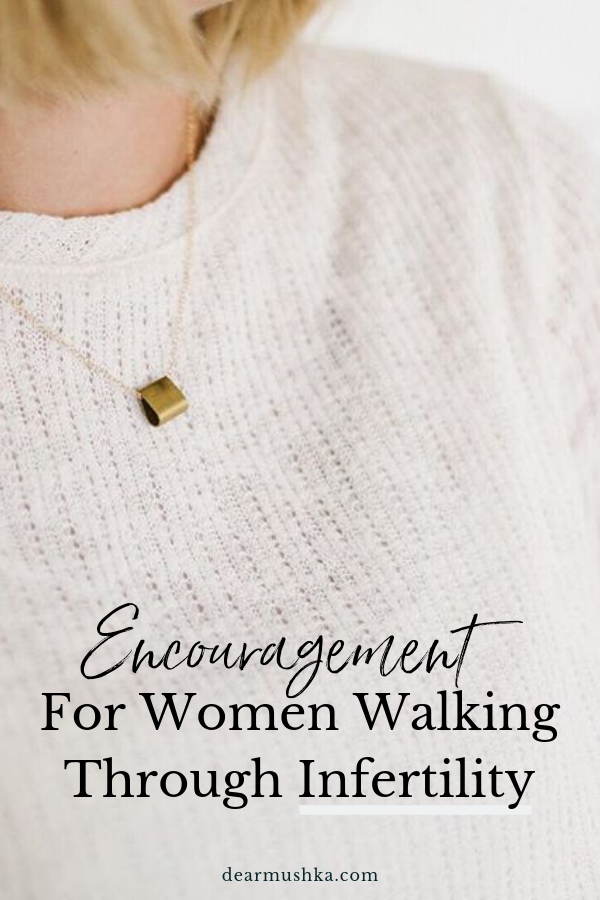 This week I shared a special guest appearance from my dear friend walking through infertility and miscarriage share her story on the Dear Mushka IG stories.
This is not part of our story but I know that is part of so many of yours! I think it's so important for both sides to talk about this - for those of you walking the road of infertility or miscarriage to share what it's like for those of us who aren't, so we learn how to encourage you and love you well!
Head over to the "Infertility" Highlights if you want to watch her share her journey or simply read below. I've also included some Dear Mushka jewelry pieces for women walking through this season of motherhood.
Jessi has words for us all to learn and will share both sides of the people groups. Remember that we are made to do life together so I hope you find value in this guest appearance!
Jessi is a friend from church and I reached out to her a few weeks ago to share her story of walking through a difficult season. Her husband and her have been walking a season of infertility for the past 5 years.
Trent and Jessi got married 6.5 years ago and about 18 months into their marriage, Jessi started to feel that maybe some things just weren't quite right with her body. A doctor's appointment led to two different diagnoses of infertility which has been extremely painful.
It was very unexpected as someone who was in her early twenties but five years later, she feels like the Lord has used this situation more than any other in her entire life. Now she is very grateful to be in a space to hopefully share some encouragement and help!
If you yourself are walking through infertility, here are three pieces of encouragement that have come through lots of trial and error and asking for lots of grace:
Surround yourself with community
Confessing that you are going through a season of infertility is really uncomfortable and really hard because you are discussing some of the most intimate details of your life but we are simply made to do life with other people. We need people to strengthen us with truth when we can't.
Learn to rejoice with those who rejoice
This is something that I really struggled with during the first years of infertility. It can be difficult to hear other women's other exciting news when all I wanted was some of that news for myself. However, it is a loving thing to rejoice with others when they are rejoicing and it's amazing to see how these people also mourn with you as you mourn. Gospel friendship is a beautiful thing.
Remember that Jesus is our greatest treasure in all of life
This is by far the most important. Jesus is so kind to give us devoted husbands and Godly friends and good gifts but He is our greatest treasure.
He came to Earth to be a broken body on a tree so that these broken, infertile bodies of ours could be redeemed someday and not stuck in this situation forever.
If you are someone NOT walking through infertility or perhaps know of someone who is, here are my tips for providing encouragement and love to those who are:
Include women who are not mothers in your tribe
It is such an honor when a mom lets me love her kids and be her friend and just includes me in her family dynamic. I've learned so much from the Godly moms in my life that I can't wait to hopefully use in my own family one day.
Love doesn't grow weary
If you have a friend who is walking through infertility its likely that they are going to hurt intensely month after month - its just the nature of it. Pray for a heart that is long suffering and stay with your friend as they hurt over and over again. This is not a quick pain.
We don't need to be fixed
I know there is a temptation to share an article you've read or a new treatment or doctor but sometimes what we need most is to be seen and heard and loved. There are certainly situations where sharing is helpful but remember that we are doing our own research as well.
Jessi also chose to share some Dear Mushka pieces that have helped her while walking through this difficult season. I love that she chose different pieces that I would have - proof that God's words go far beyond one situation.
The Encounter Necklace reminds me to not give up on praying and that the Lord doesn't tire of our prayers.
The Befitting Earrings are paired with the scripture verse that depicts Him increasing while we decrease with the jewel hanging, going back to what I said before about Jesus being our treasure!
The Expectant Necklace is one I wear nearly every day (it is actually a Dear Mushka piece made especially for infertility). It mimics an empty cradle and also open hands that reminds me that I am willing to accept that Lord's good plan and will wait expectantly for whatever He gives.
Jessie said that you're welcome to message her if you'd like to!