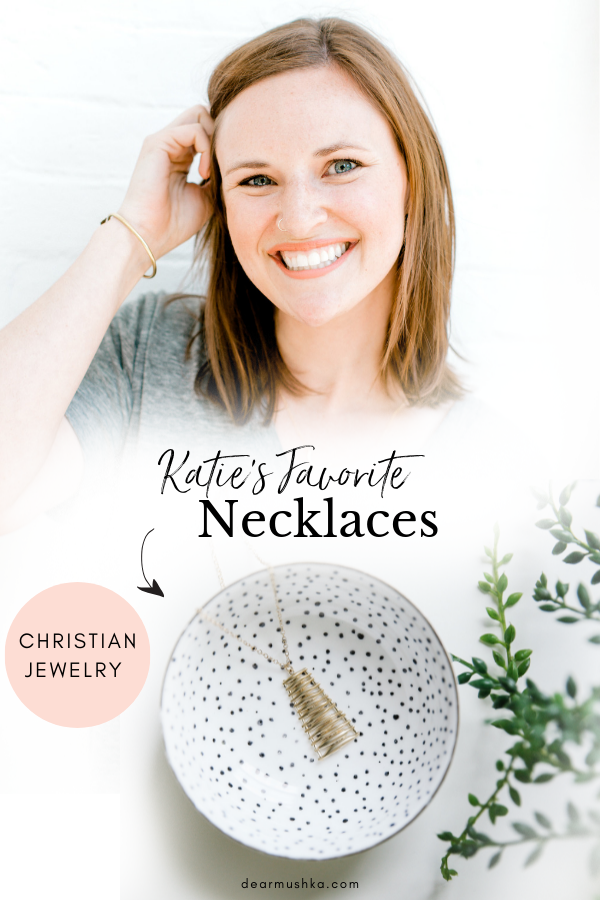 Today Katie shares some of her favorite Dear Mushka Necklaces and their meanings. Watch the video to see her explanations or read below to find your favorite piece. 
The Net Necklace
The Net Necklace comes in both gold and silver and is paired with a verse from 1 Peter. It is meant to resemble a net and casting your anxieties overboard, trusting that Jesus will handle them.
Cast all your anxiety on Him because he cares for you.
This piece would be perfect for an anxious season of life.
The Radiance Necklace
I wear The Radiance Necklace anytime I need something a little fancy. It comes in four different colors and the peach is my favorite. It's supposed to resemble an unashamed, radiant face and the verse from Psalm 34.
The Ladder Necklace
The Ladder Necklace comes paired with the verse from Romans 5 that has been such a lifeline for me. I've also given this piece to friends when they are walking through tough seasons.
It's obviously meant to look like a ladder and reflects the imagery of climbing the ladder of sanctification through suffering.
The Perspective Necklace
The Perspective Necklace is reflective of Romans 8. This is a very well-known verse.
And we know that all things God works for the good of those who love him, who have been called according to His purpose.
The idea is that up close the necklace looks like ugly holes but from a distant we're able to see our lives as a redemptive whole.
It comes in yellow gold, rose gold and silver. What I love about this piece is that just the title (and the necklace itself) offers us perspective that in hard season of suffering we can remember that God is working something out.
Do you have a favorite Dear Mushka piece that you love wearing or have given as a gift? I love hearing from you and hearing the personal meanings you give to each piece! Send me a DM to share your favorites with the Dear Mushka team❤️