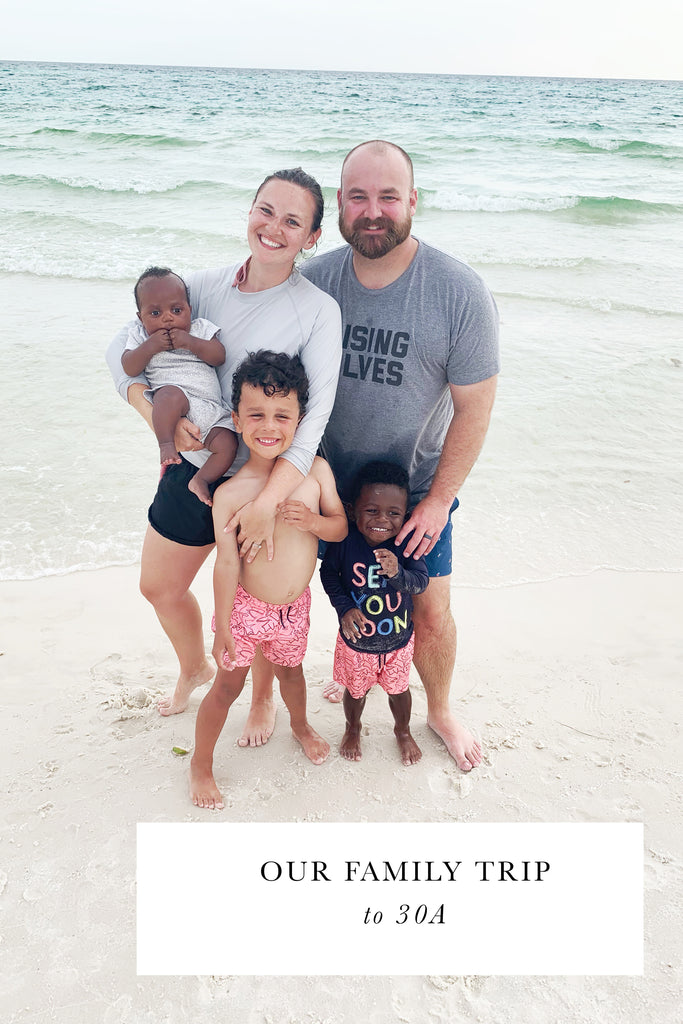 I've been vacationing to Florida basically every year since I was little. My family used to do Destin or Panama City, and now we go with Robert's family to the "30A" strip of beaches that runs in between those two big cities.
It's such a fun area- packed with good places to eat, bike paths for traveling the few miles between beach after beach, and lots of memories. 
The boys (ages 4, 2, 3 months) did so well in the car! We left early in the morning when we knew our youngest would be most apt to take a good nap. For the other two, I packed them each a "car bag" with a few car activities and snacks. We also checked out library books that they weren't allowed to look at until we were traveling. (The bags also had a change of clothes inside because #reallife). After they enjoyed the car activities for a few hours, they were allowed to watch a movie on the iPad.
A few things in their bags: 
This, this, this (non messy creativity), and this
Our condo room (here!) wasn't ready when we got there so we spent a few hours at The Hub. It's a really cool area, with lots of walk-up places to grab food, comfy seating, shopping, and most importantly astroturf for wiggly kids to run around on. We got lunch, ice cream, and lots of energy out! 
Everyday, we ate breakfast and hung out in the condo for a few hours while our littlest guy took a morning nap. Then we headed to the beach for a few hours, where we spent the majority of the time in the ocean... and eating snacks/lunch. Around 1, we'd come inside for naps/ quiet time. Robert got a few hours of work in and I enjoyed reading (and napping, too!) Then, more beach time until the boys were absolutely ready for bed. 6:30pm on the beach is the best time, we didn't want to miss it! 
I packed the boys' lunches and dinners in these boxes to make mealtimes easy. I didn't cook dinner once- they loved eating sandwiches, fruit, and goldfish on the beach every day. 
Robert and I went out twice (below) and otherwise ate simple foods, too. It was really nice to take a cooking break for a week :)
We were there over the 4th of July, which is fun. Almost every beach from Destin to Panama City has their own firework show so you can sit on the beach (or condo patio) and watch them all go off. Individuals do their own shows on the beach, too! 
On my birthday, Robert and I went on a date to la Crema- it's an excellent tapas and chocolates restaurant in Rosemary Beach. I'm already excited to go back next year ha! Another night, we went out with family to George's. It gets really crowded, especially towards the end of the week, so plan to go early! 

On the last night, we played in the ocean until everyone was completely prune-y and ate pizza on the beach. 
It was such a special week, and proof that you can travel (albeit, just a few states away) with three little children. Of course, we were all exhausted at the end but memories were made and we loved being together for a solid week!