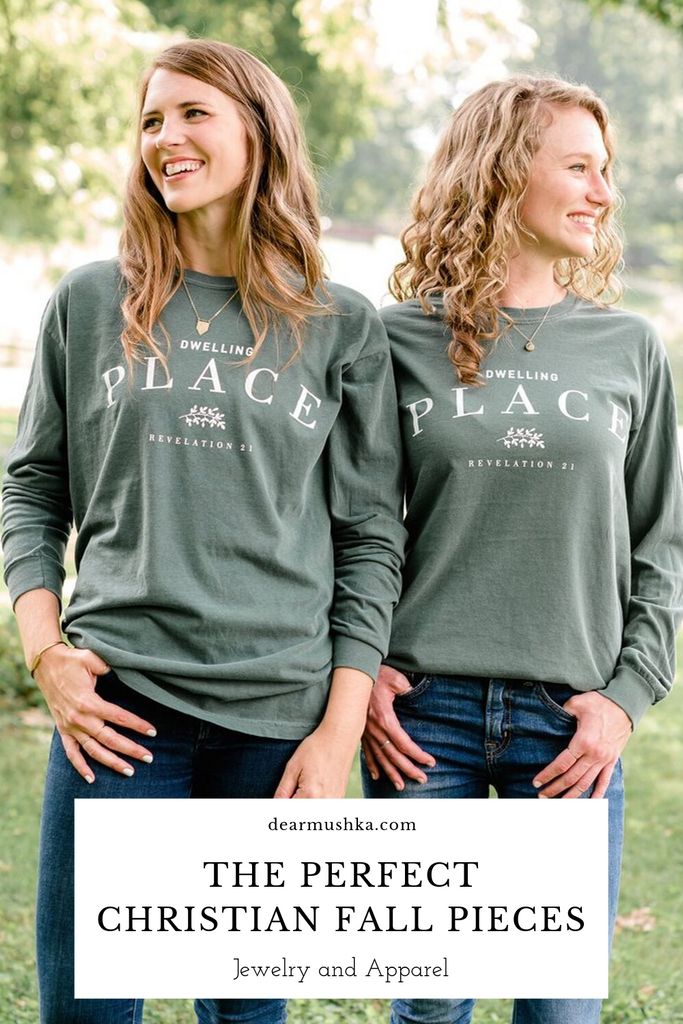 We have officially launched our Fall Line of Christian jewelry, apparel and prints and I am so in love with these new pieces! Have a peek at some of our favorites below. 
The Shell Earrings
The Shell Earrings feature THE trend of the season - tortoise shell! If you're trendier than I am you've probably already snagged a few pieces but these just feel so Fall to me. They are lightweight, you don't feel them in and I love that they are so subtle.
They come paired with a verse from Psalm 73 which is a common prayer for me. It reminds me constantly that our bodies are not enough; they fail us. But God is our strength and our Portion! He's our chosen lot in life and what we should always cling to.
These are perfect for anyone walking through infertility, chronic health or anyone in need of strength.
The Guard Necklace
The Guard Necklace comes with a brass pendant and a 14k gold filled chain which looks beautiful together. It is paired with the verse card from Philippians 4:6-7 and the word "guard" used here is a military term, representing the guard of peace of your mind.
The Guard necklace aims to remind us of the call to humbly pray, ask, find gratitude and trust in the Lord to keep us from anxiety. This is a beautiful everyday piece!
The Temple Sweatshirt
I'm so excited to have our favorite Temple Tank now in sweatshirt form! It has the same design and same verse card, reminding you that your body was not given to you to focus on; it was given to you as a tool for God's Kingdom.
This sweatshirt reminds us to care for and steward out bodies without making them an idol. It is the PERFECT weight for Fall! Lightweight enough to layer something underneath or put it under a jacket.
The Removed Necklace
The Removed Necklace comes paired with Psalm 103:11-12 (you all voted for this verse!) and is our piece for forgiveness and sin! This necklace is filling a gap in the Dear Mushka collection and I'm so happy.
The pendant is cream with black spots and some other flecks of color. The circular pendant symbolizes being eternally forgiven, with the black and white represented as God washing away our sin. This piece represents such a powerful truth!
If you'd like see our try-ons and keep updated with new Christian Jewelry products here at Dear Mushka, be sure to subscribe to our weekly newsletter and follow us on Instagram!