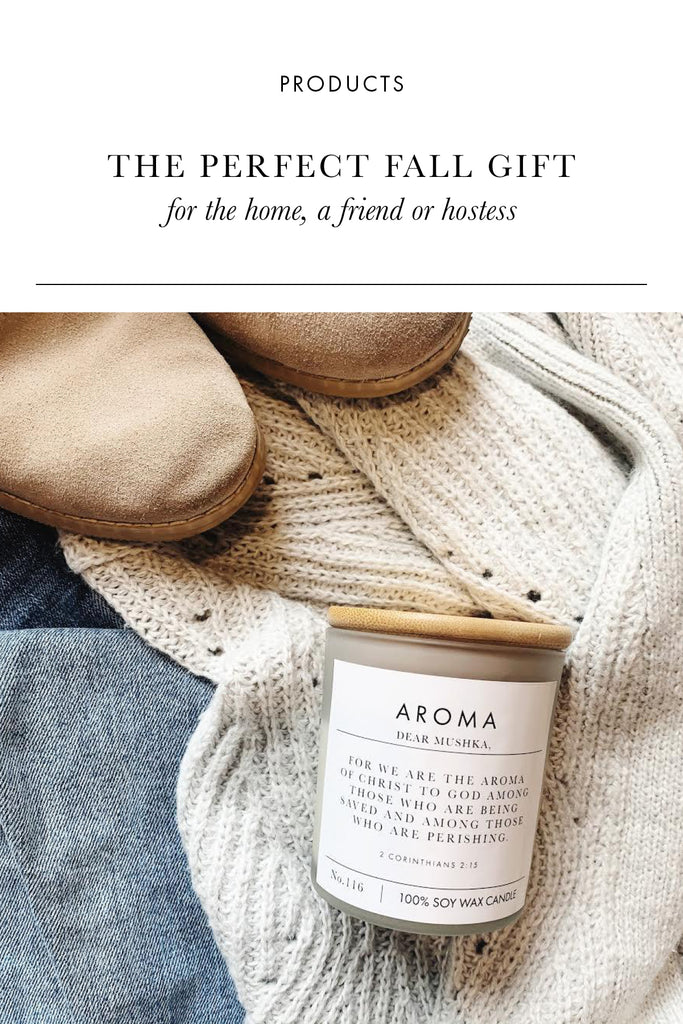 Did you see that our Aroma Candles are back in the Dear Mushka shop? They're a beautiful etched glass with a wooden lid for an easy accent in any room. They come in three of the most yummy Fall scents - Pumpkin, Pine, and Amber!
I've had the Pumpkin burning in my office all week and it's so good - light with hints of vanilla and spice.
It's not a super strong smelling candle, which is good as there will be no headaches. This isn't the candle that's going to smell up your whole house.
Each one comes paired with a 2 Corinthians 2:15 reminder that we are the aroma of Christ, meant to carry the scent of His character and love with us wherever we go.
"For we are the aroma of Christ to Cod among those who are being saved and among those we are perishing" 
This verse gives so much intention and purpose to my days. It really helps me with my character and my "why" for getting in the Word and praying. You carry the aroma of Christ with you everywhere you go and others with judge Christ upon your actions and words. You are the aroma!
The size is perfect for any shelf, side table, or desk and is lovely for burning year-round. It would also make a precious hostess gift or a treasure for a friend.
It's 100% soy wax with essential oils.
As you light it, our prayer is that you would think on your role as the aroma of Christ and bring His sweet scent to those you encounter in your day. That every time you make use of your Aroma Candle you think on the verse and that this becomes so much more than a candle to you.