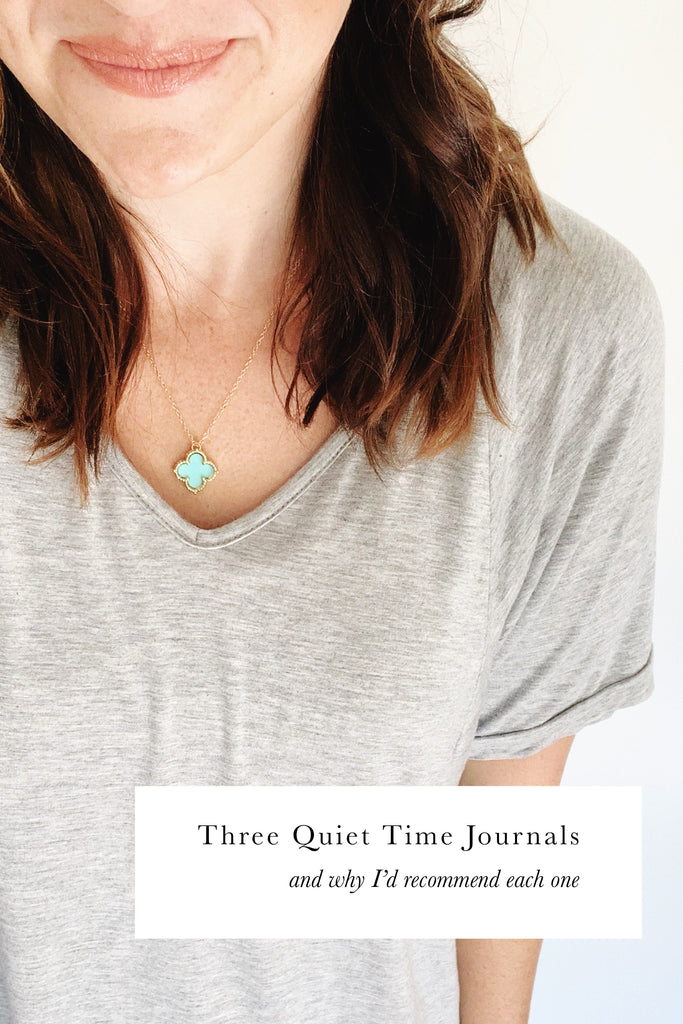 You can read all about how I do my "quiet time" here. There, I walk you through the action steps I take, and I also show you the products I use to create a Quiet Time Notebook of sorts. I love using a 3 ring binder because I can easily edit what's inside and print off something new to include quickly.
However, some of you would prefer an all-in-one journal to aid your time in prayer + the word so here are the three I'd recommend!
1. The Quiet Time Companion from Wholehearted. It's sturdy, clean, and packed with helpful prompts and pages. 
"Discipline is hard, and with all the other to-do items in your life, spending time with Jesus can seem like just another obligation. The QTC was designed to help motivate, encourage, and inspire you to get beyond the motions and into the presence of Jesus Himself!"
I'd choose this one if you want everything in one safe spot- a place for goals, memorable dates, praises, verses you're memorizing, etc. It has it all in a sleek, easy-on-the-eyes style. 
Use code DEARMUSHKA10 for 10% off! 
2. The Dwell and Delight Journal from Abundant Life Paper Co. It's lovely and instructional. Besides having a spot to record Bible study notes and prayers, it also comes with lessons on how & why to read your Bible and pray. Beautiful!
"Combining world class, biblical teaching from Jani Ortlund and helpful journal pages to transform your quiet times, this resource was designed to help you grow deeper in relationship with Christ over the course of a year."
I'd recommend this one if you'd like to learn about prayer, reading the Bible, and meditating on scripture. The co-authors, Heidi and Jani, are full of wisdom. Their lessons are easy to understand and extremely helpful, especially for newer believers or women who have simply never been taught what to do once you sit down with your Bible. 
Use code DEARMUSHKA for 10% off! 
3. The Give Me Jesus Journal from Well Watered Women Co. It's been tested over time, used by thousands, and perfect for a daily aid. 
"This simple lyric from the classic hymn sums up the heartbeat of the Give Me Jesus Journal. We created this journal to be a useful and practical tool in your daily quiet time."
I'd recommend this one if you want something a little more affordable, feminine, and easy to follow. 
Use code DEARMUSHKA15 for 15% off!