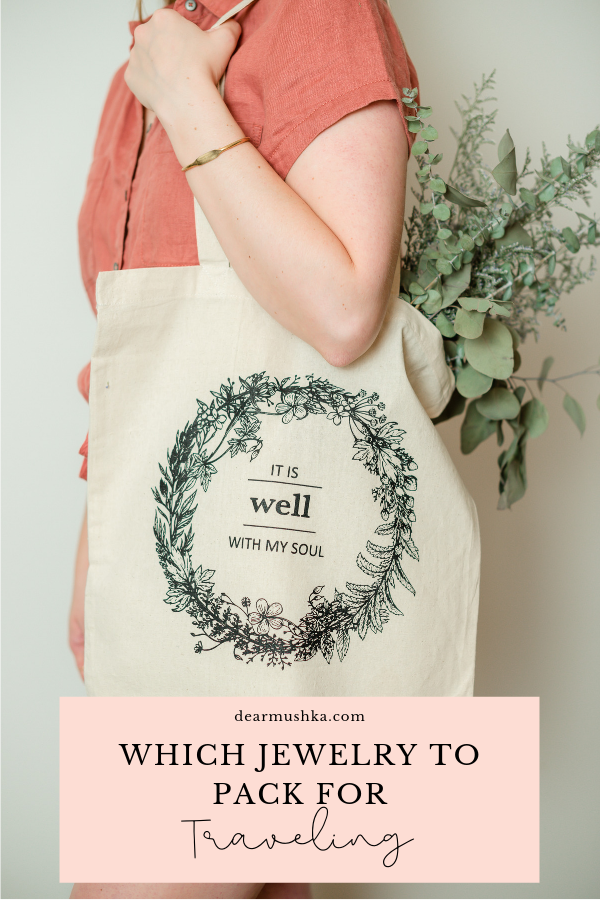 Let's talk about travelling with jewelry and my go-to pieces for when I go on trips! I just got back from a vacation at the beach and I find that I enjoy travelling really simply - especially when I'm travelling with my three boys and going to the beach.
One necklace.
One or two pairs of earrings.
One bracelet.
Done.
Here are the Dear Mushka pieces I chose to travel with for this family vacation to Florida:
A Simply Necklace
The Essential Necklace is a great, everyday piece. This necklace goes with everything and even when you're just wearing a plain tee it adds the perfect amount of pop and sparkle. It looks cute with a dress, bathing suit, tee, date night dress-up, whatever!
The reason I chose this specific piece for this trip is that is reflects Micah 6:8 and I find it essential for everyday life. We can cling to Jesus' ability to do things perfectly and we can pray for help to do likewise.
This verse and necklace reminds me when I'm away to do justice, practice love and kindness, and to walk humbly.
Everyday Earrings
The Goodness Earrings are earrings I turn to a lot of the time when I'm travelling because they are so easy. I often forget that they are even in and they do with absolutely everything. You don't even need to worry about packing another pair to be honest!
It comes paired with Ephesians 2:10 and it serves as a reminder that even while on vacation, we must continue to live as Christians. There are people who need Jesus' love and care no matter where you are going. I talked to so many people on the beach this year and praying this verse every morning made such a difference in my heart.
Fun Earrings
Earrings with a little bit of dangle and fun can be great to bring on vacation for when you want to dress things up a little. The Storm Earrings and The Poise Earrings are great options!
The Storm Earrings are lightweight with no earring back to mess with, they just slip on and are so easy. They look beautiful with a simple tee and can be really casual but also transition to a fancier outfit with ease.
I think bringing on simple pair of studs on your trips and one pair of hanging earrings works so well for every occasion. These have been in our shop for YEARS and you all love them as much as I do - if you haven't purchased a pair yet, you'll for sure want to add them to your next order👏
I though about this reflective verse so much in Florida as it often rained on the beach while we were there.
Let us press on to know the Lord, He will come to us as sure as the showers!
It rains for at least a few minutes every year at the beach. I can rely on that! And the Lord is even more reliable.
Bracelets!
The last item I bring along is a bracelet or two. It's always a toss between the Carried Bracelet and the Parallel for my most worn. The are both brass and strong and durable.
I love the way they look with the Companion Bracelet - I love the white but they come in six other colors. They also give a great vacation look!
Packing Your Jewelry
I also wanted to share that our packaging for all of our jewellery pieces is intentional. They each come with their verse cards and the chains are attached in a smaller bag with washi tape.
You can easily reuse the washiest tape to attach your verse card to a wall or mirror or your computer so you can see it at all times. The small bag is perfect for traveling with your jewelry!
You also get a larger size cloth bag that comes packaged with your order that you can toss all your jewelry in to keep it in one sage spot while traveling.
And that's how I travel with jewelry so that it doesn't become more important than my people and I get to take the Gospel with me while I'm away from home.