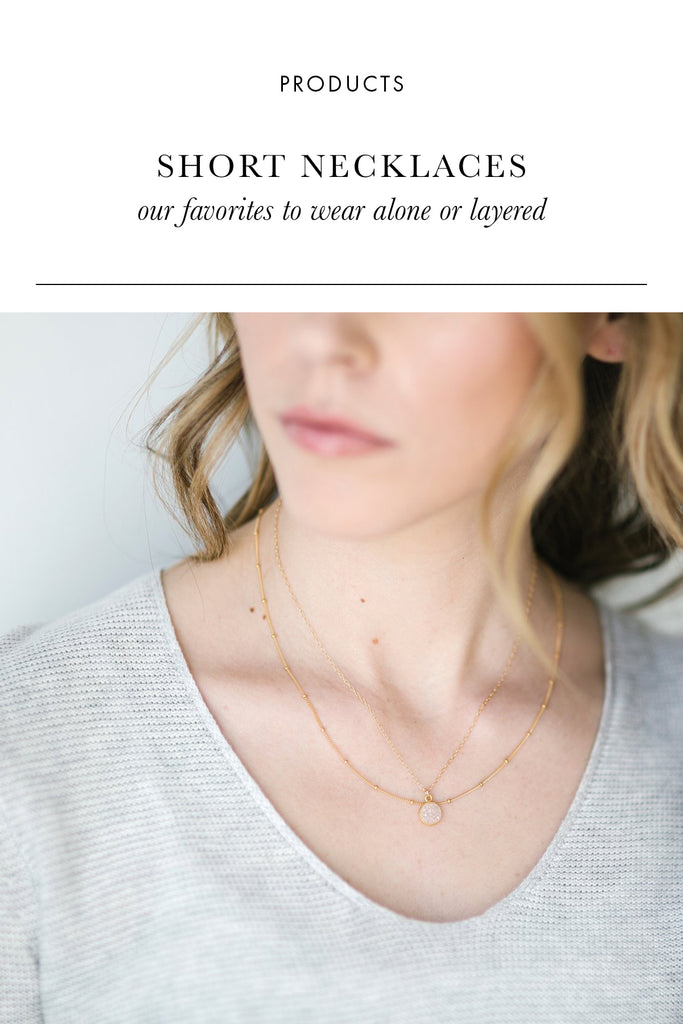 Our Dear Mushka short necklaces are ideal to wear alone or layered with a longer piece. Each necklace comes with a reflective verse from the Bible to keep close to your heart or share with a loved one. These are seven of our favorites.
The Resolved Necklace
You keep him in perfect peace whose mind is stayed on you, because he trusts in you. · Isaiah 26:3
The metal on this necklace is like our minds. It goes every which way - around our necks, looking at the past; hanging down towards the ground, in shame or distress; sticking out, comparing ourselves to others. But peace is found when we wrap our minds around God - the stone in the middle.
I pray this piece causes you to to keep your mind stayed on a trustworthy God every single day. He is worthy of our trust and praise.
It's a lovely every day necklace, perfect worn alone or layered with a longer piece!
The Onward Necklace
When you pass through the waters, I will be with you; and through the rivers, they shall not overwhelm you; when you walk through fire you shall not be burned, and the flame shall not consume you · Isaiah 43:2

The Onward Necklace is a beautiful visual of this promise in Isaiah. The middle section of chain looks like fire and moves like water, a reminder that God is with you when you walk through both. 
 
It's a perfect piece to wear during seasons of trial, and looks lovely dressed up or down!
The Guide Necklace
I will instruct you and teach you in the way you should go. I will counsel you with my loving eye upon you · Psalm 32:8
The Guide Necklace mimics an eye as a reminder that God sees us and offers counsel and instruction in our every days. We don't have to go it alone; we have the wisdom and guidance of the Holy Spirit with us, always!
With four color options to choose from, it's a beautiful necklace for anyone!
The Guard Necklace
Do not be anxious about anything, but in everything by prayer and supplication with thanksgiving let your requests be made known to God. And the peace of God, which surpasses all understanding, will guard your hearts and your minds in Christ Jesus · Philippians 4:6-7
The Guard Necklace is shaped like a shield to mimic what a guard might used to protect his post. When we come to God in prayer with thanksgiving, His peace guards our hearts and minds.
This is a lovely everyday necklace full of meaning and promise.
The Portion Necklace
The Lord is my portion, says my soul, therefore I will hope in him · Lamentations 3:24
The word "portion" in this verse refers to a plot of land, an inheritance, or a home and so this piece is designed to look like the Earth from above. 
It's a precious reminder that a spouse, child, home, job, etc will never be our portion. Instead, we place our hope & joy in God and look to Him to be all we need.
The Twinkle Necklace
When I look at your heavens, the work of your fingers, the moon and the stars, which you have set in place, what is man that you are mindful of him, and the son of man that you care for him? · Psalm 8:3-4
The Twinkle necklace has tiny 14k gold fill or sterling silver dots fall along a dainty chain, shining the image of stars glowing in the night sky.
We pray you wear it, praising God for His bigness and for His care of you.
The Salt Necklace
Let your conversation be always full of grace, seasoned with salt, so that you may know how to answer everyone.  · Colossians 4:6
"Salt" subtly sparkles right below the collar bone, creating the perfect everyday necklace for anyone.
A friendly reminder to keep your conversations full of grace in the same way you might add salt to a meal, making them palatable and enjoyable!
For more Christian Jewelry options and meanings, watch our Instagram stories for daily inspiration from Katie.