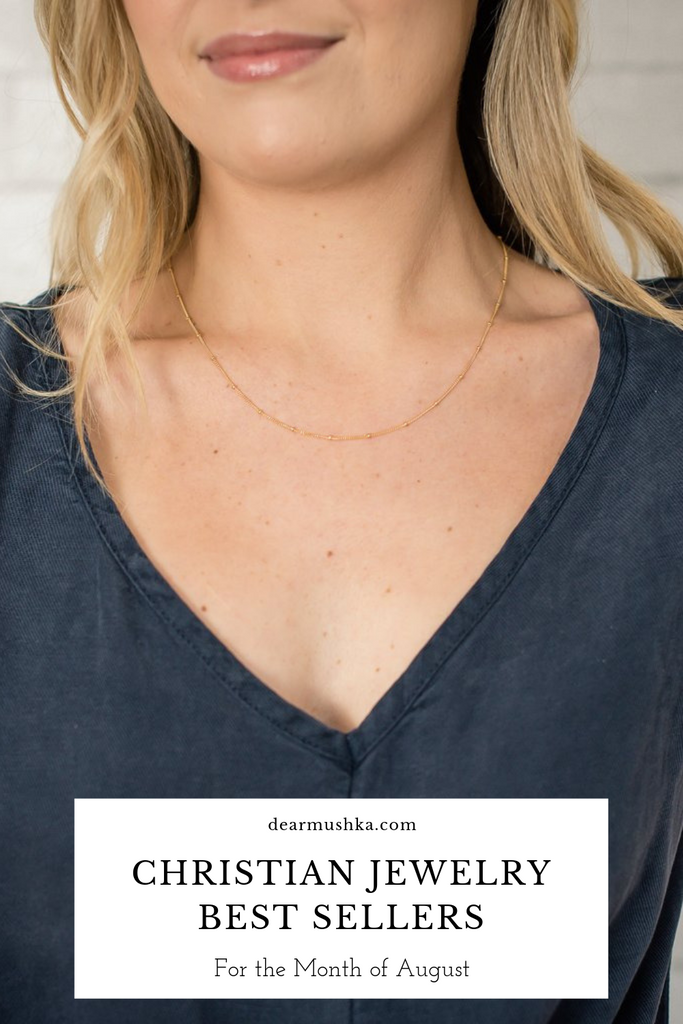 Here are the top ten products purchased for the month of August at Dear Mushka! It's always exciting to see the changes based on new products, sales, seasons and holidays.
I'll go into detail about what each of the pieces mean and my followers on Instagram always love these monthly recaps so I hope you love it, too!
The Renew Earrings
The Renew Earrings are one of my favorite pieces which is surprising to me. I thought these would just be for you trendy women, but I fell in love! They are lightweight and a good size. I love both the teal and grey color of these tassel earrings - perfect for Fall!
The verse paired with them is from Romans 12:2 and these earrings' design reflects the verse in many different ways. This piece stands out more than our other pieces so you can see how that represents you standing out from the crowd or even how they "sweep away" the thoughts of the world so you can make room for Christ.
These are so sweet and are perfect for high school and college girls, but I totally love wearing them, too!
The Aid Necklace
The Aid Necklace comes in three metals: rose gold, yellow gold and silver. The verse for this piece comes from Psalm 147:3 and this necklace was popular this month because of the giveaway I did on Instagram!
This is the perfect gift for women going through a season of suffering and it serves as a reminder that only God can fill the holes left in our hearts from loss - miscarriage, loss of a loved one, health issues, etc.
The Self Control Necklace
The Self Control Necklace went on major sale this month and you guys snagged these up! It's a mixed metal piece with a rose gold chain and a silver box pendant. It features a verse that is so powerful for your days with that bold pendant that is locked and loaded with the Holy Spirit's power!
This one will be retired soon so if you want one, grab it for the low price while there are still a few left.
The Timber Necklace
The Timber Necklace was another sale piece for the month of August. It hangs long and is claspless so it just slides over your head - super easy! Each of the stones are unique and its greenish color just affirms its paired verse passage from Jeremiah.
The idea here is to remind you to plant your roots deep by the stream so that even when drought comes, when we walk through really hard times, we can bear fruit and our soul can be at rest.
Its the perfect piece to wear for a special occasion or date night with an everyday verse. Put the verse card somewhere visible or use it as a Bible bookmark, and plant those roots deep, girls!
The Carried Cuff
The Carried Cuff makes our top seller lists often because its just a really great cuff, made from brass and very strong. You simply pull it open and squeeze closed to adjust the sizing.
The Carried Cuff and Companion Bracelets pair so well together! It comes with the verse from Isaiah 40:11 and the design looks like arms wrapping around your wrist to remind you that as you carry your people, God is carrying you!
This is my go-to mother or baby shower gift and comes in both silver and brass.
The Priority Rings
The Priority Rings come in all three metals and although they come one in a pack, I like to wear three at a time to remind me of my three boys and how they are my priority over my to-do list. I also love the idea of it representing the Trinity and they also look really good stacked.
The verse is from Matthew 6:33 and it reminds us to seek from the Kingdom before our to-do lists, social media, etc. Seeing these rings on your hands throughout the day reminds you where your priorities should lie. 
The Eclipsed Necklace
I'm guessing many of you purchased the Eclipsed necklace for your daughters going back to school. We currently don't advertise our pieces as "kids jewelry" because of the insurance purposes that come along with it like choking hazards and all that.
So I can't tell you that this necklace is for your kids going back to school but it is a great length and is totally adorable for little girls, with the sweet locket. Inside you can store a picture, a kiss or a prayer for when she's feeling a little nervous.
It comes paired with Jeremiah 33:3 and is a call to prayer. They are beautiful, sweet little lockets!
The Companion Bracelets
The Companion Bracelets are always, always on our top seller lists! They come two in a pack - two bracelets, two verse cards so you have one to keep and one to gift. They are like grown-up BFF bracelets.
They are reasonably priced and they are the perfect way to thank a friend for being a companion you can cherish. All of the colors are stunning and are lovely paired with a brass bracelet or even just your watch.
The Twinkle Necklace
The Twinkle Necklace is the perfect layering piece with its satellite chain so it keeps it from getting tangled. I wear it with basically any other necklace in our store!
This month it got a new verse and its the perfect one to meditate on all day long! Keep it in mind if you want a go-to piece for layering with all of your other necklaces.
Our Number 1 Piece: The Onward Necklace
The Onward Necklace was in our shop years ago and it was retired until now. You all begged to have it back! I'm so glad you loved it enough to bring it back.
It comes paired with Isaiah 43:2 and the design looks like fire and water, representing the verse perfectly. It is the perfect piece as you or a friend walk through trial to serve as a reminder that you will not be burned.
For those of you walking through this hard season, I see you and am hopeful with you!
That's it for our top ten products for this month at Dear Mushka, thank you to everyone who supports us! If you'd like to see more try-on's for our pieces be sure to head over to our Instagram and watch our daily stories.