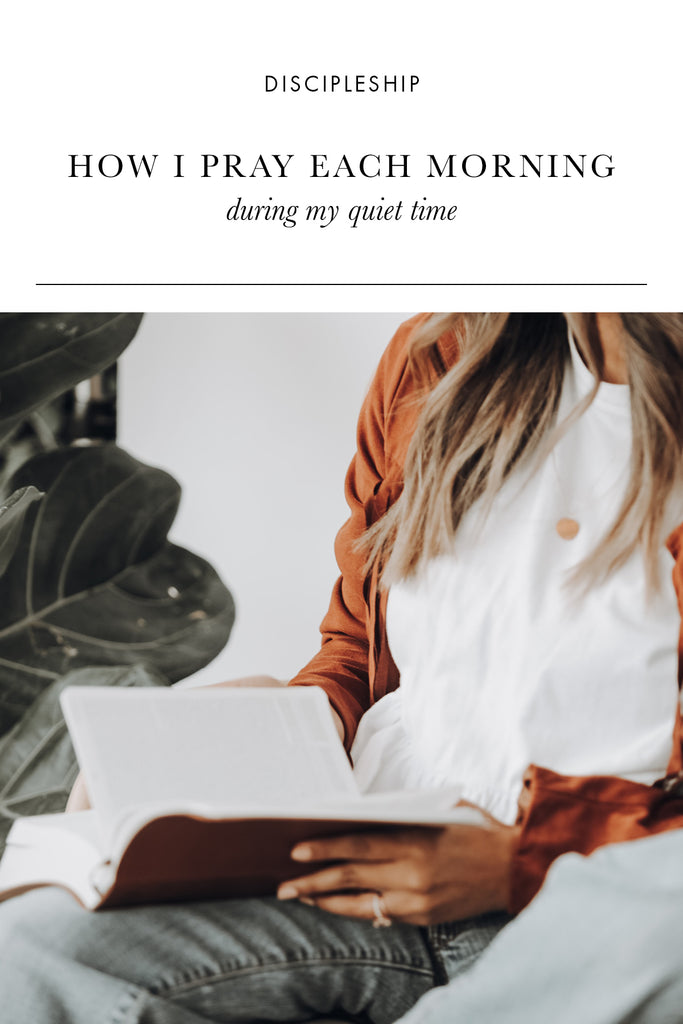 I came up with the Prayer Pages system after gathering wisdom from women far wiser than me over the years. It really works for me, and today I'd love to share with you exactly how I use these prayer pages during my daily morning quiet time. 
Watch my prayer pages video highlight on Instagram here!
I keep my prayer pages in my quiet time binder which contains a 3-ring notebook with tabs. (This is the exact binder I use). I find that using the binder keeps things easy and accessible. Instead of using lots of different journals, I keep everything in this notebook. For paper I use normal computer and notebook paper so I can print and add pages without difficulty. 
Inside the binder, I have five tabs:  
Prayer 

Bible reading notes 

Wonderful deeds of the Lord

Verses I am or have meditated on (Currently Psalm 73:23-26) 

and Goals.
Near my morning quiet time chair, I keep my binder, any books I'm working through, and verse memorisation tabs. When I'm able to sit down, I grab my binder and everything is ready!
This prayer system has been such a helpful tool for me and one I've used for years. I print these sheets (called Prayer Pages in my shop) once a quarter. There is a 'Daily' sheet and the one for six days of the week (Saturday/Sunday combined). The digital download comes with a few more pages and a lesson on prayer. 
I punch holes and then put them in my notebook. On the 'Daily' page I'll write out what I pray for daily. Generally, I don't write out long prayers (you could!). Mine are bullet points and/or verses. I usually include the Lord's Prayer, praying for my boy's salvation, my husband, a few friends I've committed to praying for, the Unreached People Group from Joshua Project , etc.
In the pages for the days of the week, I have other topics that I'll cover at least once over the course of the week. This has removed any feelings of overwhelm and given me focus! I keep these in a big binder when the season (I go by the seasons of the year) is over. They're highlighted and marked up with God's answers. 
On Monday under 'Dearest Ones', I have my husband and kids with more specific prayers for each of them. This is a great place to hand any daily worries about parenting and marriage over to the Lord! 
Under 'Family', I have extended family members. You could take two days to pray over these if you wanted.
Under 'Tuesday', it's 'Myself' and my 'Goals'. I always want to be praying over my goals so they stay God-focused.This keeps me self-aware. It's another great place to lay worries at the feet of Jesus. 
On 'Wednesday' is 'Friends' and the 'Salvation' of people I do life with. 
On Thursday, it's 'World' and 'Local'. I'm so grateful for this page in particular. I pray for our government, Compassion International, local church, leaders, etc. 
Friday is a free day. I always add Dear Mushka here, but this could be a place for marriage, adoption or a community group.
On Saturday and Sunday I pray for my family's general sanctification, my prayer life, Bible reading and the fruits of the spirit. This could be a time to cover items that need more attention from the week.
Years ago, I was given a tip from a mentor to start praying aloud for five minutes every day. Every year, you add a minute. I'm up to 12 minutes now! I set an alarm and basically read off my lists. I read my bullet points, pray a Psalm or read prayers from a prayer book. Praying out loud makes it so much sweeter. I remember that I'm talking to someone and won't get distracted! With my hands open, I pour out my heart and thoughts. 
At the end of the season, I highlight and make notes regarding God's answers and then start new pages. 
The prayer pages
might be a great way for you to organize your prayers! Save the file on your computer, print them over and over again. Make it work for you! Try it, adjust, keep going. Remember, worshipping God is the goal.