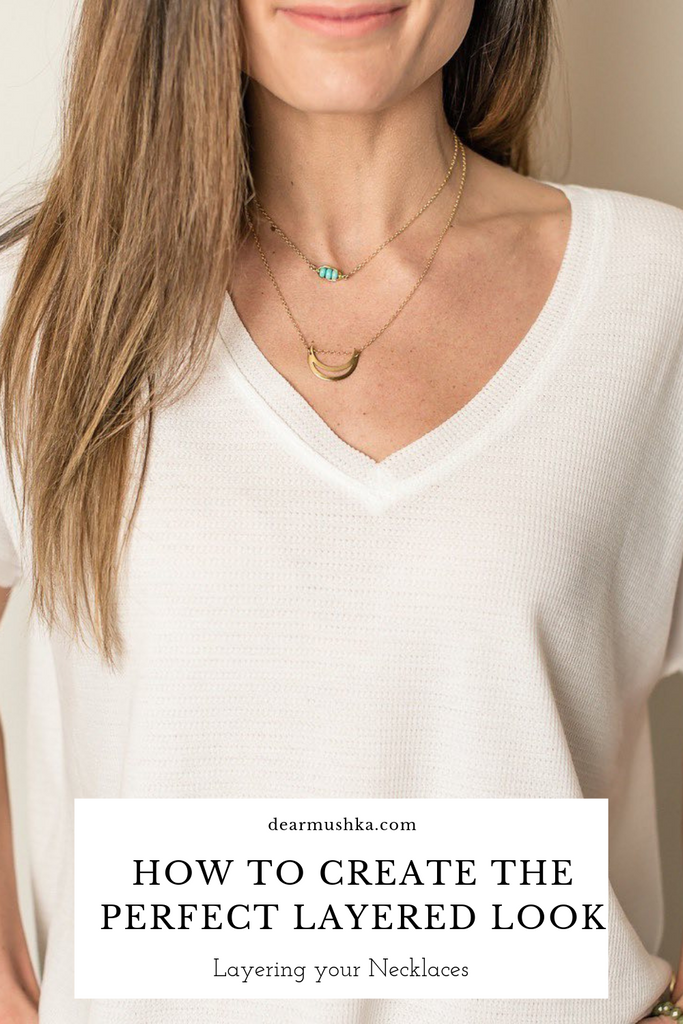 A layered necklace look is so trendy and a beautiful way to add something extra to your style. However, it can be tricky to pair the right pieces together and keep them from moving about.
I like clasping my necklaces together at the back so they are connected and don't slide around. Simply hook the one into the other and you'll always have them lined up in front.
If I layer necklaces other than the Twinkle Necklace I attach the clasps together. The Twinkle Necklace is my absolute favorite layering necklace because of its satellite chain, it keeps it from getting tangled with another chain!
I love pairing the Twinkle Necklace with a 16" necklace or an 18" one. If you like the layered necklace look then the Twinkle Necklace is super easy to work with!
Another layering look that I love to wear is a short necklace with a long necklace. Our long necklaces don't come with a clasp and you're able to just pull them over your head. These two pieces don't tangle as I feel like the pendant of the long necklace keeps it all balanced.
The Complete Necklace and Essential Necklace is a great combination that works well together.
I also like it when the necklace shapes mimic one another - like the Essential Necklace and the Salt Necklace. Having a solid pendant mixed with an open shape looks really good!
The Verb Necklace (an open triangle pendant) with the Harvest Necklace is another great combo I love to wear. Remember to hook the clasps to one another and you're all set.
A go-to look that I pair with my Twinkle Necklace is the Resolved Necklace - both come in gold and silver so you get to pick your favorite metal.
The Crescent Necklace (so cute just on its own!) and the Kinship Necklace gives you a fun, boho look that I love. The double meaning is also so precious!
These necklaces reminds us that when you're focused upwards, you're able to remember your identity as daughters of the Lord. That when we suffer as Jesus did we can remember why.
Wearing two pieces together can help us see how all scripture is connected. The design is part of it, but the meaning and scripture is even more beautiful.
Have a peek at my IG stories if you'd like the see the live try-on's of these necklaces to pick your favorite combination!