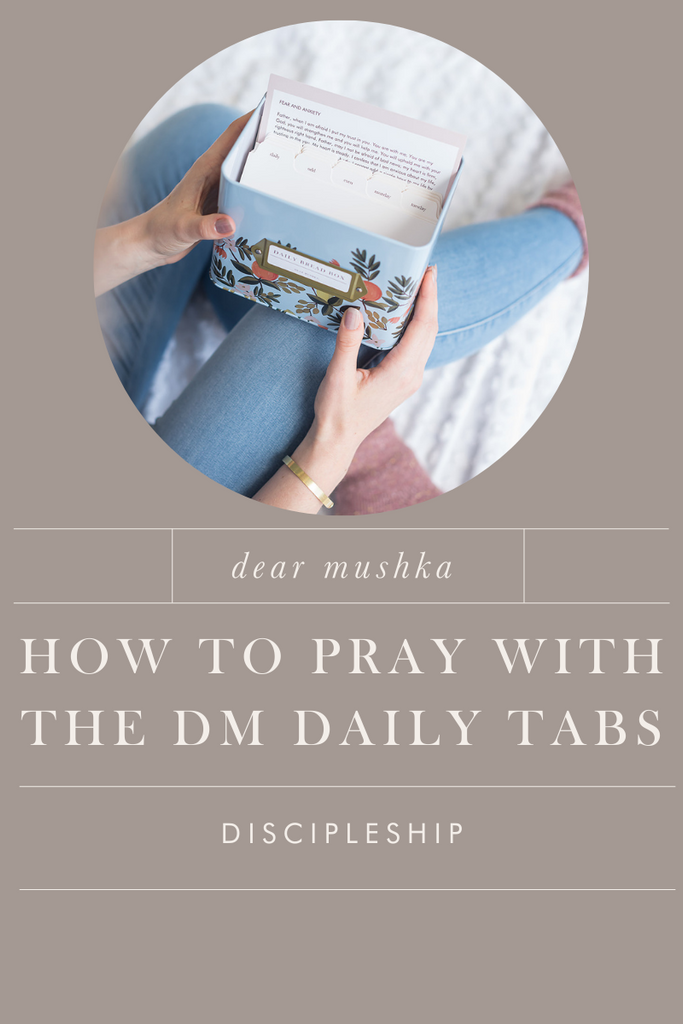 This year, I started a new prayer "system" using a product we've had in the shop for years now: The DM Daily Tabs! This system has helped me know exactly what I'm praying for each day, which frees my mind and also reassures me that it will all be covered over the course of a month.
Pair it with our new Lord, Teach Us prayer packs and you'll be able to pray for your children, spouse, and self in powerful, scriptural areas month after month!
Here's what you'll need:
1. The DM Daily Tabs & one of our Lord, Teach Us to Pray packs
2. A Daily Bread Box
3. Extra cards to write on, like our blank cards or 4x6 index cards
Here's what you do: 
1. Put the tabs inside your box
2. Put a Lord Teach Us card behind each of the date of the month tabs (1-31)
3. Fill out other cards based on what you'd like to pray for each day, thinking through how often you'd like to pray over each area. You can also make these cards over the course of time, as the Holy Spirit leads you.
For example, the card that goes behind your Daily tab might have basic areas like The Lord's Prayer or the ACTS acronym (adoration, confession, thanksgiving, supplication) on it. 
Behind the Even and Odd tabs, you might have a few cards for your closest family members, current anxieties you're working with the Lord through, or prayers for the salvation of those around you.
Behind the Monday-Sunday tabs, you might have bigger topics you'd like to cover each week like your local church, your city, your marriage, missionaries, the school your children go to, your workplace, etc
Then, behind your 1-31 tabs, you can make a card for the various people in your life you'd like to pray over each month. Think about your friends, extended family members, the women in your Bible study group, etc
On Thursdays, I pray over Dear Mushka! Here's what my current card looks like. 
4. Once you've made your cards, place them behind the appropriate tabs. But don't panic! Cards can be rotated with ease so nothing is set in stone. Perhaps this month a card needs frequent prayer so it goes behind your Even tab; Next month, you may be able to move it to a date of the month tab. 
5. Each day, open your box and pray the cards behind the appropriate tabs. You'll pray the prayers behind four dividers:
·Daily
·Odd or Even
·Day of the Week
·Date of the Month
For example, if today is Sunday, August 1 I would pray the cards behind Daily, Odd (1 is an odd number), Sunday, and 1. Tomorrow, I would pray the cards behind Daily, Even, Monday, and 2. 
Over the course of a month, you will have lifted up so many areas and people to God, trusting that He hears our prayers and works through them. What a gift! 
Bonus: As God answers your prayer, make a note right on the card as a testament to His mercy and grace. Each year, you can pull out your notecards and staple them together with the date on top like a prayer journal. Start fresh the next year! 
Note: If you already use this system to memorize scripture, feel free to combine the two methods! I like to pray the verses I've memorized over the prayer topics on the cards behind the same tabs.