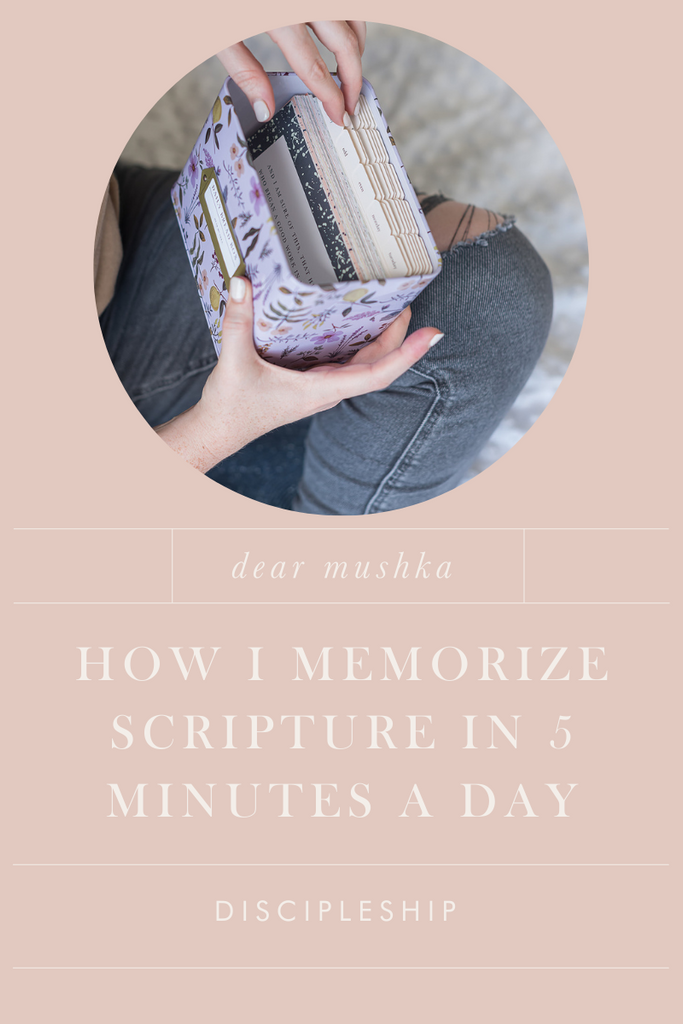 I've memorized a lot of scripture over my years but like anything, find that it slips away if not rehearsed from time to time. Whether you're using the promise pack to memorize one promise from scripture a week, a Fighter Pack, or have your own verses to learn (or both!), I think this method can work for you.
After using this system for years, I can say it's a real winner. It's doable but also places proper reverence upon God's word. After all, Psalm 1 says that we should delight in and mediate on these words day and night. That's going to take a little time :)
Instructions
1. Grab a Bread Box and the DM Daily Tabs
2. Place the DM Daily Tabs inside. You should have 
·1 divider-- Daily
·1 divider-- Odd
·1 divider-- Even
·7 dividers-- Days of the Week (Sunday, Monday, etc.)
·31 dividers-- Numbered 1-31
3. Write down any verses you already know onto a 4x6 index card and then place the verse cards behind the numbered dividers, distributing them evenly. If you don't know any already, that's okay! 
I'd recommend using a scripture set like The Promise Pack as you begin because your next verse is always at the ready! So take the first promise pack card and and place it behind the Daily tab. The rest of the cards can be stacked at the very front of your box or in a separate location. At the beginning, you might not have any verses in the Odd, Even, and Days of the Week slots, but they'll fill in soon. 
4. Each verse is meant to be reviewed less and less as you have it committed to memory. The daily tab is to help you memorize. The even/odd tabs help you review the verse every other day. Then the verse is reviewed once a week in the weekly tabs and finally, is reviewed once a month in the 31 days tab. Each day you will say the verses behind four dividers:
·Daily
·Odd or Even
·Day of the Week
·Date of the Month
So if today is Tuesday, the 24th, you will say the verses behind Daily, Even (because 24 is an even number), Tuesday, and 24. The next day- Wednesday, the 25th- you will say the verses behind Daily, Odd, Wednesday, and 25. Keep in mind that only the verse behind Daily is a new one that you are memorizing; all the others are just quick review.
5. Once a week, or when you're confident in your knowledge of the verse, write the date on the back of the Daily card and advance it. The Daily card replaces the older Even or Odd card (use your past dates as a reference if you need it); Your replaced Even or Odd card goes behind the oldest Day of the Week; Your Day of the Week goes behind a Number. Then put your next card behind the Daily divider and you're ready to go again!
This allows you to review a new verse every day, and then every other day, once a week, and ultimately once a month. If you use your box every day, you're going over each of your verses every month, which is a beautiful way to store them deep in your heart. And because we know that the mouth speaks from an overflow of the heart (Luke 6:45), this is also a wonderful way to begin using scripture in your everyday language and guidance. When you're spending 5-10 minutes a day in scripture, the words are sure to come back out!
A Few Notes: Place your most well known verse(s) behind Day 31 since it will be reviewed less often. When each day has a card behind it, start adding additional cards behind each of the 31 days. You'll have to do this by the end of the year-- how exciting! And if you're more of a visual learner, here's a video on the Charlotte Mason Method. 
· · · · · · · · · · · · · · · · · · · ·
Whoo! That was a long post. Set up will take a little time, but gosh-- I can't think of many things more valuable, can you? If you make a box, please tag us on Instagram (@dearmushka) and use #thepromisepack so I can see!