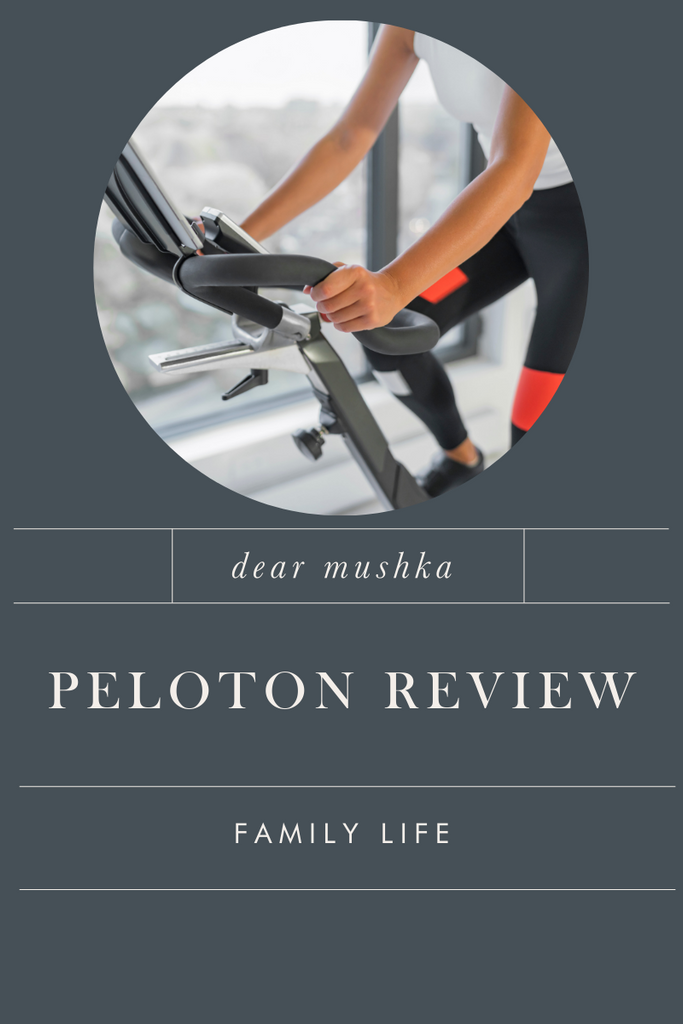 Two years ago, we got a Peloton bike. I wanted a way to do cardio exercise inside my own home, and also wanted the option to do strength training alongside it. 
I knew there were ways to convert other bikes to the Peloton system so I researched, crunched numbers, and even searched Facebook Marketplace for a good bike. When it came down to it, though, we landed on an actual Peloton bike (the basic version) for a few reasons.
1. I did not want a headache when it came time to workout. I didn't want to rig a system, have to convert numbers for one program to match another, buy another screen to watch the class on, prop up my phone, etc. I wanted the process to be seamless and easy. Otherwise, I just wouldn't do it. 
2. I knew we'd have 3+ users in our home. (Me, my husband, our oldest son). Because of this, paying for the Peloton app (around $44) each month made sense. We all have an account within this price and can use it as we need to, which is less than the cost of a gym membership. Our eight year old loves to hop on the bike when he's stresses or needs to burn energy, and I imagine other children will follow him as soon as they're tall enough. 
Three things I'd recommend: 
1. Change out the pedals for slip-ins instead of clips-ins. That way, you don't need specialty biking shoes. Anyone can hope on with their regular tennis shoes. It certainly saves money! We have these. 
2. Buy a seat cover. I do think your bum gets used to a bike seat quickly, but I'm always glad to have a little extra cushion! We have this one. 
3. Consider adding a swivel to your screen so you can do non-bike exercises from the Peloton screen. The Peloton+  bike comes with this feature, but you can also buy a swivel and add it to the less expensive bike yourself. So far, I've just screen mirrored my Peloton app to our TV to do a non-bike exercise (our weights are in our playroom but our bike is in my office on this.) 
How I love using the Peloton program right now: 
1. Post-partum core work. There are multiple programs created to gain core strength back in a safe way. Robin Arzon is my go-to instructor here. She's encouraging, upbeat, and fun. 
2. 15 minute bike rides. I did "low impact" at first and am now up to more difficult rides, but I rarely spend more than 15 minutes on the bike due to time. I love that I can hop on, get a great workout in, and hop off. Ally Love, Emma Lovewell, Robin Arzon, Hannah Frankson, and Leanne Hainsby are my favorite insructors. 
I also love the scenic rides. My son loves the "lanebreak" option, which is like a game you play while you ride. 
3. Arms with Tunde is a great 4 week program to work on upper body strength. I did one of these this morning!
4. Various other strength or stretching workouts. You can chose the body part you want to focus on, your instructor, your time availability, etc I now search for short core workouts 2-3 times a week to continue gaining strength back. 
5. I'd like to try the running instructors one day, too! It's just audio but they coach you during outdoor walks and runs. 
6. I like to schedule out my week ahead of time. I pick 5 15 minute rides and 5 10 minute strength training classes, for a total of 25 minutes/day. I take the weekends off. Sometimes I do my ride and strength class back-to-back and sometimes I cram them in whenever I can while kids are content to hang near me. 
Enjoy!
P.S. These are my favorite workout shorts. I've now purchased three pairs (sized up to a large for extra length.)