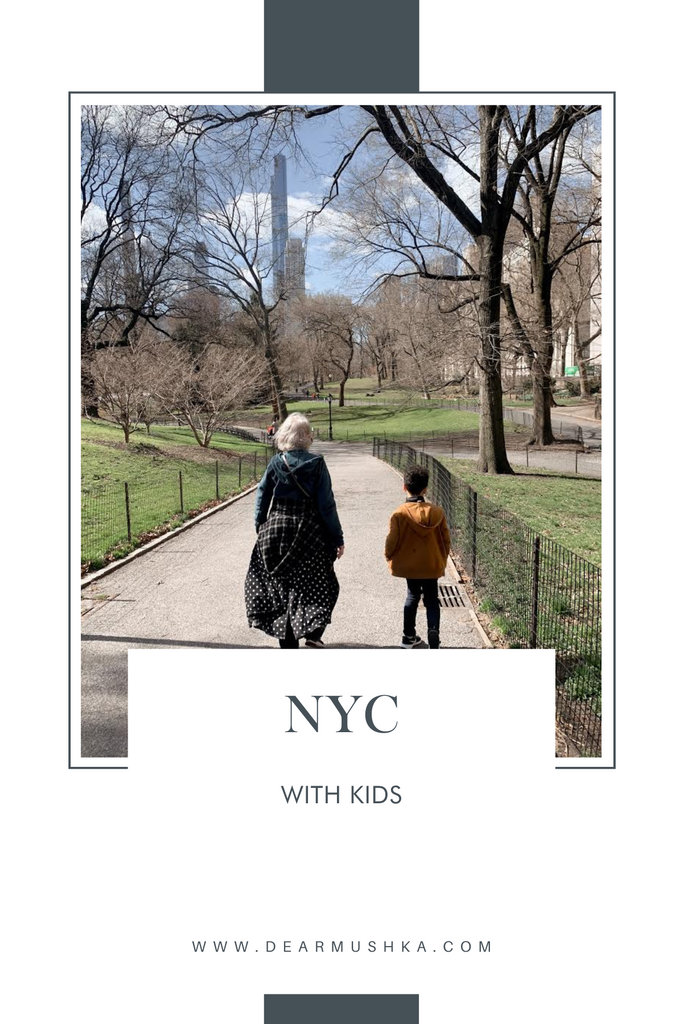 We just got back from a trip to NYC with our 6 & 4 year old and had the best time. Here's a little recap of our trip with some tips for traveling with to the city with kids! 
Day 1: 
We flew into NJ and took a taxi to our apartment. Some friends generously let us stay at their place while they were out of town so we were in the Tribecca area, which is very residential and family friendly. I'd recommend this area with children for sure! Lots of playgrounds, other kids around, and a Target if you need something crucial. 
We grabbed lunch at a local diner, which is always a winner for kids. Basically anything they want is available. Check! 
Then we walked down to the Hudson River/ Pier 65 area. There you'll find views of Lady Liberty, New Jersey, so many boats, and lots of playgrounds to explore. We could have stayed here for hours! It's a really dreamy area. 
For dinner we grabbed a slice of pizza and looked at the One Trade Center building. We didn't go inside on this trip, but it's pretty incredible. Just practicing walking on the right side of the sidewalk was enough for our kids haha
Day 2: 
Robert ran out and grabbed us bagels (Zuckers) for breakfast and brought them back to the apartment. 
Then we walked across the Brooklyn Bridge to the DUMBO area of Brooklyn. It's a really cool experience and great for kids! In DUMBO, our boys threw rocks into the East River and climbed all over the playground there. We grabbed a quick bite and then took a ferry back across to Manhattan. I'd love to do the Staten Island ferry in the future. 
We rested each afternoon, which was helpful with little ones. They watched a show and played with Legos while we read or sat out on the patio. 
That evening, we took a Subway to Bryant Park. There was still free ice skating going on and lots to look at. The library was closed due to COVID, but they got to see the lions and run across the stairs. We had dinner at Shake Shack (which we have & love in Nashville, but it started in NYC so it felt extra special). 
Day 3: 
It was a rainy day so we grabbed brunch at Sarabeths (the pancakes are truly amazing) and then headed to the Museum of Natural History. There was so much to see, most of it really entertaining for even young ones who couldn't read. They loved all the bones and animal replicas! 
We were starving when we came out so we walked the Upper West Side looking for lunch. Jacob's Pickles is a favorite of mine in this area, but the wait was too long so we ended up at Jake's Dilemma. It was a bar but had great food. 
Central Park would have been next on our list (it's right across the street from the museum) but it was still raining so instead we headed back home for a movie evening. Night at the Museum was the perfect pick since we'd just been in the museum! 
For dinner, we ordered Chinese takeout and pretended to be locals ;) 
Day 4: 
The boys were really hungry when they woke up so we grabbed quick bagels again and I made a note get breakfast groceries for future trips. 
Then we took a subway up to Central Park, where we strolled and climbed the giant rocks and found lots of playgrounds and considered the zoo (not this trip) and just enjoyed Spring in NYC. It was our boys' highlight for sure- they're already talking about our next trip back. 
For lunch we ate street hot dogs and then got Sprinkles cupcakes. They're really the best cupcakes I've ever had (Nashville, bring one back!) Then, Robert gifted me and my Godmother who we brought along with us an afternoon to shop and play without little ones while he took the boys back to the apartment to relax. For dinner they got Chipotle (sometimes something familiar is best) and we got Los Tacos-- the best. Somewhere in there, we also got Waffled and Dignes in Bryant Park which are worth a try. So yummy!
Day 5: 
We had an early flight so we woke up, packed, cleaned up, and headed to the airport. We brought our boys' iPads for a movie on the plane and they did wonderfully. 
For our first trip with kids to the city, it was a dream. I think the key was scheduling in time to play on playgrounds each day and building in some rest time. They couldn't shop or eat at nice restaurants, and Broadway was closed due to COVID, so we enjoyed low-key activities and had a great time. Thank you, Lord, for this gift of a trip!