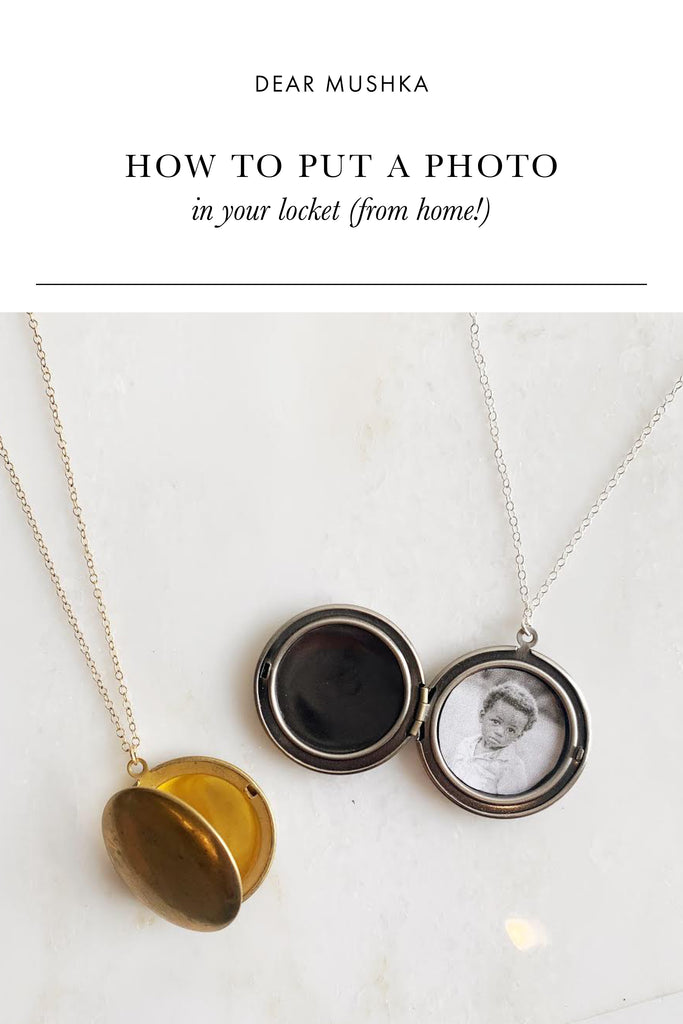 Our Eclipsed Lg. Locket is a shop best seller-- here's how to quickly & easily add your favorite photos to it! 
This works for our Eclipsed Sm. Locket too- follow the steps below and print a 13mm photo 
1. Find the photo(s) you want to use. You can use a total of two for each locket. 
2. Size the image correctly. You want your image to be the size of a quarter for a perfect fit. If you have a photo already, you can trace a quarter around the part you want to use and cut out. 
If you need to resize your image, here are a few options: 
· Take your photo to a kiosk center in Walgreens, Costco, etc. Make into a wallet size or size even smaller if the kiosk will let you. 
· Drag your photo to Microsoft Word, click format picture, and adjust the size. You may have to play around with the sizing a little to get exactly what you want inside your quarter. For me, 1.25" was perfect. 
· Use this site to get a perfect fit! We are not associated with this company, but it seems like a wonderful solution. They've taken the guess work out! 
Get started > proceed without code > circle > 33mm (or 13mm for the Eclipsed Sm locket) > add image > delete the ones you don't want (you may just need one) > edit > zoom/ adjust as needed > save > finish > download 
3. Then you print! You can print from home on normal computer paper, you can print from home on photo paper, or you can upload your resized picture to a photo site and order that way.
Note: I printed on normal computer paper for this tutorial and it's a little grainy. If I were doing this for my real locket, I'd consider using photo paper or having a photo site print for me. 
4. Cut to size and insert. Place a quarter over your image in the correct spot, trace, and cut out. You can attach with double sided tape or you can use a paintbrush and Mod Podge on the front and back to seal it well. A 4oz bottle is around $3 at the time this blog post was published and comes in gloss or matte finish. 
Another option would be to laminate your print off and attach with tape. If you choose this method, make your photo a little smaller to account for the extra width of the lamination. 
5. Done! Enjoy your locket with your loved ones inside. (Note: You could also attach a little note, flower, etc using a similar method.)
If you do this, I'd love to see! Tag @dearmushka on Instagram.