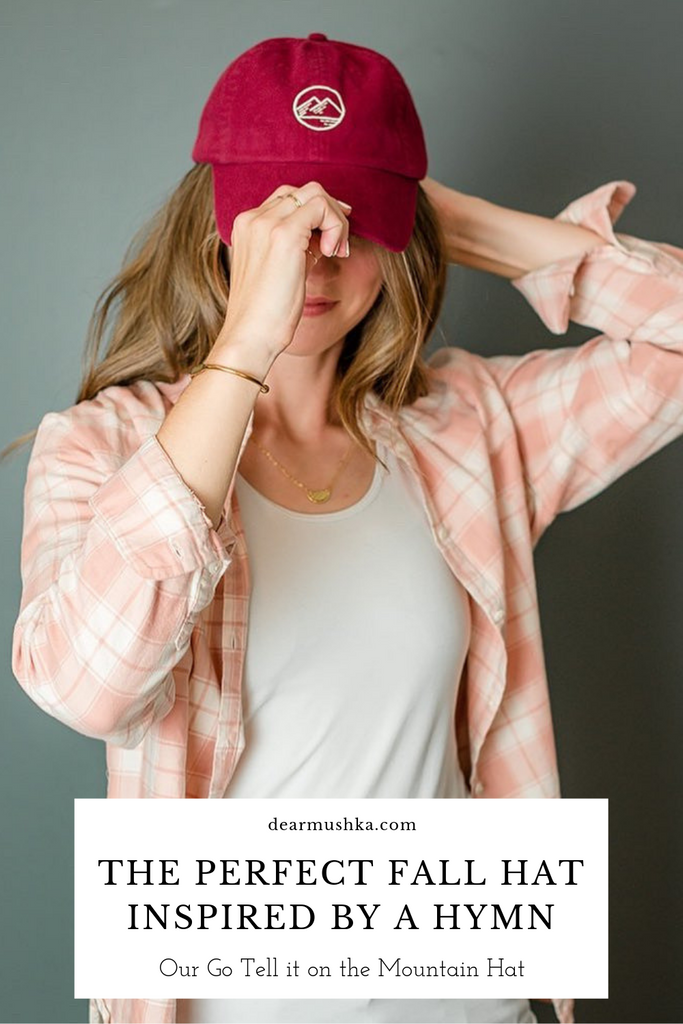 Our Fall line is launching September 5th and I am officially excited - I even showed some sneak peaks over on stories today. We will be launching TEN new products! Sign up to our mailing list and follow us on Instagram to keep updated and pick out what you love. 
The first product is our Go Tell it on the Mountain hat which comes in two colors (maroon and navy) as I simply couldn't pick which one I loved more. This is our hymn piece for the season. Over the past few seasons we've always incorporated a hymn piece into our line and while praying over which hymn I wanted for this Fall, Go Tell it on the Mountain kept coming to mind.
We don't do a separate line for Christmas, so whatever we launch this season is going to be available for Christmas shopping. So I thought this beautiful song (usually related to Christmas) would be perfect not only only for the holidays but is also at the heart of Dear Mushka. It reminds us to go tell it everywhere and anywhere we can that Jesus Christ is born!
The story behind the hymn is that it is originally an old African American spiritual passed down from generation to generation. These people were slaves who passed it along from plantation to plantation and although they didn't read or write, they sure did share the gospel and encourage one another through music!
In the early 1900's, John Westley Work (from Nashville just like me!) collected lots of these spirituals into a book so that we could have them today. Knowing this definitely gives the song more meaning and power now that I know it's history.
The Go Tell it on the Mountain hat is perfect for Fall and transitioning to the cooler months. It pairs perfectly with leggings, a casual top and also covers dirty hair - yep, this is certainly how I am going to be wearing it! I feel like it can take a super casual and simple outfit and instantly give it something special.
The style is a "dad hat" and is fully adjustable at the back so it can fit my small pea-head but also fits well on bigger heads! Dad hats are the most comfortable, every day hat style that is also unisex so it's perfect for anyone and everyone!
It has a super sweet mountain graphic that isn't super in-your-face, but it reminds us to spread God's Word and to go tell it on the mountain.
Keep your eyes pealed for our new Fall Line launching September 5th and follow us on Instagram where I'll be sharing a sneak peak of our new products every day until we launch.