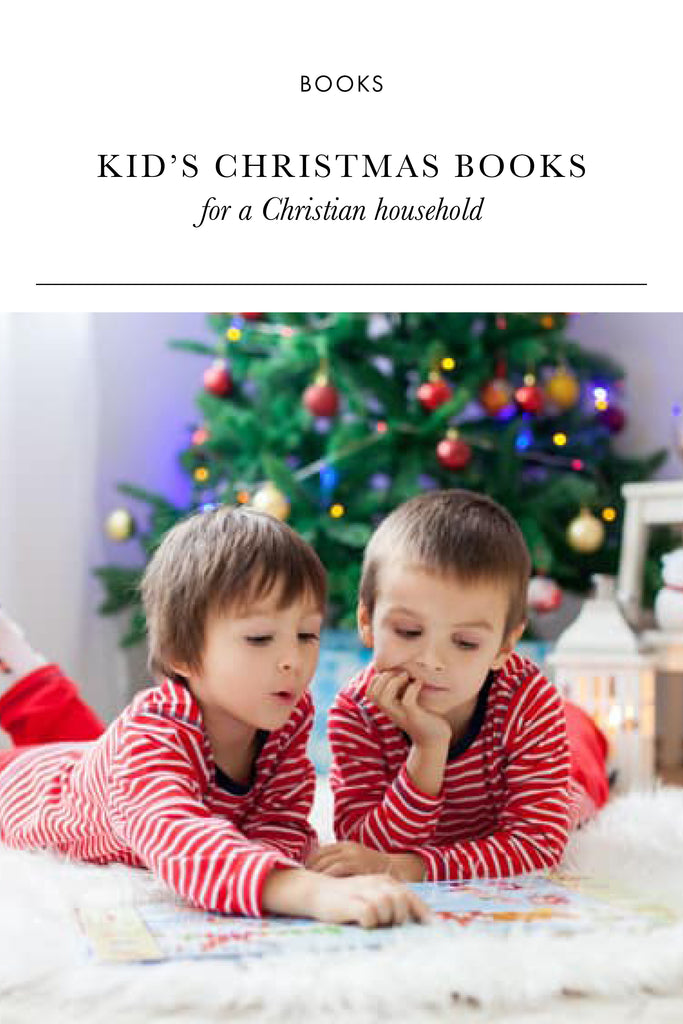 Every year, we add a few new Christmas books to our collection. My favorites beautifully tell the real story of Christmas, display all skin tones, and/or draw my children in with gorgeous illustrations and an engaging story. 
Here are some of the ones on our shelf! (Click each picture for a direct link)
1. Twas the Evening of Christmas-- Tells the Christmas story to the familiar rhythm of Twas the Night before Christmas. 'Twas the evening of Christmas, when all through the town, Every inn was so crowded, no room could be found.'
2. Silent Night-- A new one for us; I love it!  "Celebrate the magic of Christmas with this beautifully illustrated book, based on the world's best-loved carol. Rediscover the Nativity Story in all its glory—from quaking shepherds to heaven-sent angels—as the song lyrics are brought to life on every spread. The world's diversity is reflected in a cast of characters with a range of skin tones. A gorgeous book for all the family to share during the festive season."
3. Jotham's Journey-- This is the first year we'll begin this series, and I know my five year old is going to love it. I've heard nothing but great things regarding these books! "In this widely popular, exciting story for the advent season, readers follow ten-year-old Jotham across Israel as he searches for his family. Though he faces thieves, robbers, and kidnappers, Jotham also encounters the wise men, shepherds, and innkeepers until at last he finds his way to the Savior born in Bethlehem."
4. Pick a Pine Tree-- Okay, this isn't a "Christian" book, but the illustrations are beautiful and it brings alive so many family traditions you may partake in. "Part of the magic of the Christmas season stems from the traditions that families and friends take part in every year: hanging up stockings; putting lights in the windows; and, one of the most important of all, picking out and taking home the Christmas tree. With style and warmth, debut author Patricia Toht and Jarvis, the author-illustrator of Alan's Big, Scary Teeth, evoke all the rituals of decorating the tree — digging out boxes jam-packed with ornaments and tree trimmings, stringing tinsel, and, at long last, turning on those twinkling lights. Joyously drawn and rhythmically written, this celebration of family, friends, and the holiday season is as merry as the tradition it depicts."
5. Jacob's Gift-- This is one from my childhood that my own boys have learned to love. "Jacob is a young boy with a gift for carpentry who is busy finishing up a project for a contest. His teacher, Rabbi Simeon, not only instructs him in carpentry, but also teaches him important lessons about God. Rabbi has just taught Jacob that when you give a gift to one of God's children, it's like giving a gift to God. The night before the contest while working on his project, Jacob has fallen asleep in the workshop and is awakened by a bright light. The light is a star which is directly over Jacob's father's stable. As he approaches the stable, he sees a man, a woman, and a newborn baby which is laying in the straw. Remembering what Rabbi Simeon had told him, Jacob returns to the workshop and takes his project (a feeding trough) to the new family. The morning of the contest, the Rabbi pleased to find out that Jacob has acted upon the lesson he learned and has truly given a gift to God."
6. The Littlest Watchman-- A precious story that ties the Old and New Testaments together. It's a little wordy for small kids so I summarize the pages. "Benjamin is a Watchman. It's his job to watch for the sign that all God's promises are coming true to watch a stump.Trouble is, it's hard just waiting. And one night, Benjamin finally gives in and stops watching. But that same night, as he sits outside Bethlehem, he gets to watch something wonderful."
7. The Christmas Promise-- Fun to read, your kids will enjoy saying (yelling) WHOOSH! "A long, long time ago so long that it's hard to imagine God promised a new King. He wasn't any ordinary king, like the ones we see on TV or in books. He would be different. He would be a new King; a rescuing King; a forever King! This book helps pre-school children discover exactly how God kept His Christmas Promise."
8. God Gave Us Christmas-- All the books in this series are great, including this one. I'd imagine it would be especially good if your family does Santa. 
 "As Little Cub and her family prepare to celebrate the most special day of the year, the curious young polar bear begins to wonder "Who invented Christmas?" Mama's answer only leads to more questions like "Is God more important than Santa?" So she and Little Cub head off on a polar expedition to find God and to see how he gave them Christmas. Along the way, they find signs that God is at work all around them. Through Mama's gentle guidance, Little Cub learns about the very first Christmas and discovers that Jesus is the best present of all.
This enchanting tale provides the perfect opportunity to help young children celebrate the true meaning of Christmas and to discover how very much God loves them."

9. The Lion, The Witch, and The Wardrobe-- We're all probably familiar with the books by C.S. Lewis and this kid's version is a great one to read during the cold Winter months. "Now younger children can share the magical experience, entering into a world of enchantment that will forever lure them back. Four adventurous siblings step through a wardrobe door and into the land of Narnia, a land frozen in eternal winter—but never Christmas—cursed by the power of the White Witch. Only Aslan, the Great Lion, can reverse her wicked spell."
10. A Very Noisy Christmas-- A simple tale of Christmas that your kids will love reading, it's so interactive. "Some think that Christmas was a "Silent Night". Far from it. It was filled with shouting, singing and screaming! It was as noisy as any of our Christmas celebrations.This fun and fresh retelling of the Christmas story comes with sound effects so that children can join in as parents read to them. But it also shows children that at the heart of the Christmas story is something we should all be quiet and see: God's son Jesus was born, so that we can be friends with God forever. Now that's something worth shouting about! A wonderful Christmas gift for children aged 3-6 years old."