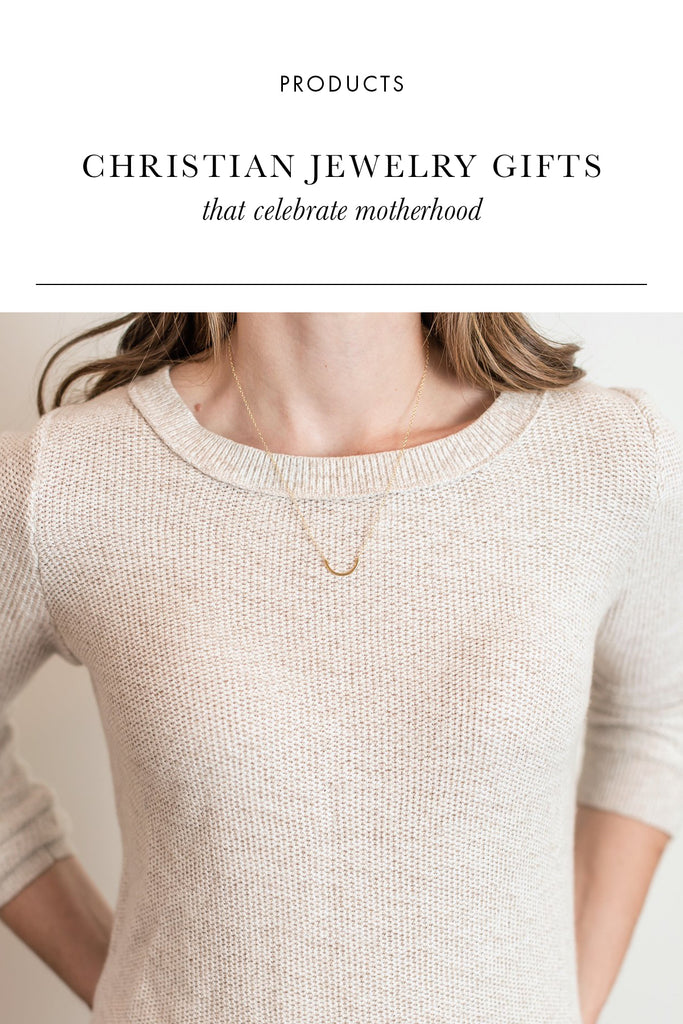 We're celebrating all aspects of motherhood with you this weekend - the highs, the lows, and everything in between. Thank you, Lord, for using even our pain to draw us to you. Here are 5 Christian Dear Mushka Jewelry Pieces that come paired with Scripture Cards to cherish or share.
The Expectant Necklace
Psalm 37:5-6 "Commit your way to the Lord; trust in him, and he will act. He will bring forth your righteousness as the light, and your justice as the noonday." 
I created this piece for those of you walking through infertility. Of course, it doesn't stop there and can be gifted for any number of things where you are especially needing to commit your way to the Lord! 
The design of the necklace represents an empty cradle, but you may also see it as open hands accepting everything the Lord provides for you.
Some of you have worn this for years. It's made with so much love and prayer. Mother's Day is hard for so many of us - me included. You are seen, sister! 
The Brimming Necklace
Psalm 107:9 "For he satisfies the longing soul, and the hungry soul he fills with good things."
Where the Expectant Necklace represents infertility or the long road of adoption, it's sister necklace, Brimming, is for a long awaited child, or simply being filled with God's peace. We aren't promised children, but we are promised fulfillment in God. 
These two pieces sit together! Look for the person in your life who needs one of these this year. 
For a friend walking through infertility, someone celebrating her first Mother's Day or someone who has surrendered or found joy in the Lord, consider gifting this piece to her. 
The Carried Bracelet
Isaiah 40:11 "He will tend his flock like a shepherd; he will gather the lambs in his arms; he will carry them in his bosom, and gently lead those that are with young."
The Carried  was created with the imagery of God's arms wrapping around you as you carry your children. I LOVE this reminder that I'm never carrying my children alone. 
Pull it open, squeeze it closed. I can get a great fit on my smaller wrist, but it also opens really wide. 
Who can you send one of these to? This is going to go so far beyond just a piece of jewelry. God's Word straight to their heart!
The Thank You Necklace
Philippians 1:3 "I thank my God every time I remember you."
The Thank You Necklace says thank you in Morse Code! This special and unique necklace is classic with a twist. Pair it with a thank you note to bless a mother or mother-in-law for being such a wonderful woman of God in your life. 
The Thank You Necklace also comes in our Thank You Care Box along with an Adorn hair clip and a Prayer Fighter Pack. We've done all the work for you! Just ship it to your mother of choice! Leave a note on the View Cart page and we'll add it!
The Trio Necklace
1 Corinthians 13:13 "And now these three remain: faith, hope and love. But the greatest of these is love."
I gave the Trio Necklace to my mother-in-law when our first child was born. It comes with three rings, but you can add as many as you need! We've given her another ring every time a new baby was on the way. She also has one for each of her own sons. All her babies are close to her heart!
For more Christian Gift Ideas and Christian Living inspiration, watch our daily Instagram Stories!
Continue reading