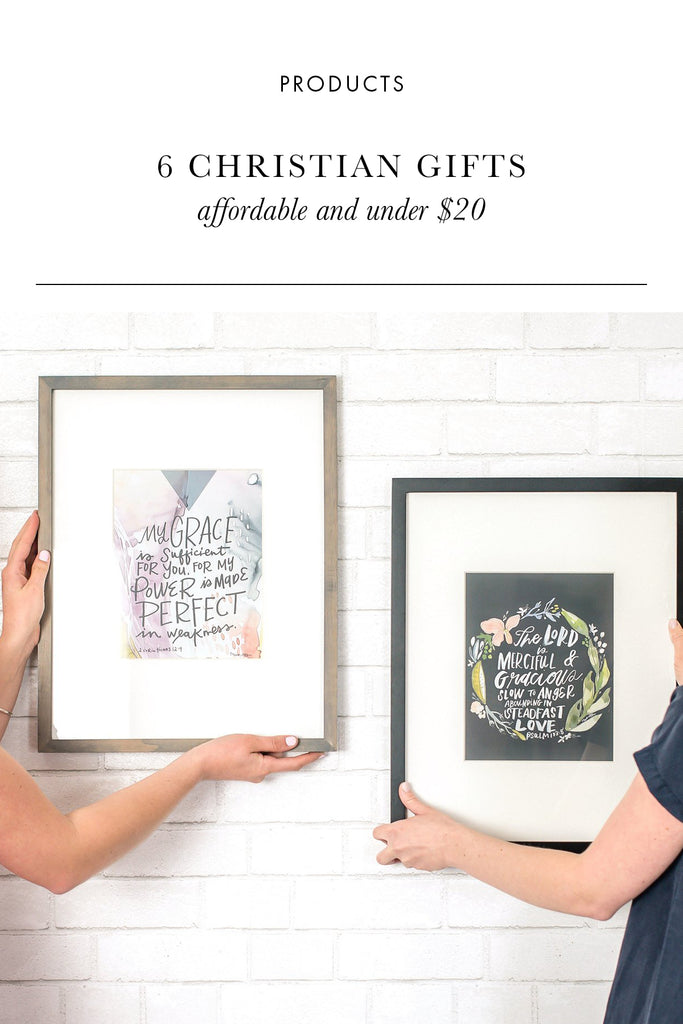 With Christmas just around the corner, we're sharing some beautiful gift ideas all for $20 or less. These thoughtful and unique pieces are perfect for friends, family or even yourself! 
The Cheer Keychain
Do not let any unwholesome talk come out of your mouths, but only what is helpful for building others up according to their needs, that it may benefit those who listen · Ephesians 4:29
The Cheer Keychain seeks to bring to mind these helpful words before you blow thoughts out without thinking. Encourage and cheer one another on rather than tearing down!
Bonus: The whistle is really loud, perfect for keeping close by on your keyring.
The Storm Drops
Let us press on to know the Lord; his going out is sure as the dawn; he will come to us as the showers, as the spring rains that water the earth · Hosea 6:3
The "Storm" drops are bent into sweet raindrop shapes and completed with a long back for an instant pulled-together look.
Lightweight and backless, perfect for sliding in quickly and running out the door. Lovely for anyone in need of a helping hand, a dose of shine, a steady reminder.
The Adorn Hair Ties
Let your adorning be the hidden person of the heart with the imperishable beauty of a gentle and quiet spirit, which in God's sight is very precious · 1 Peter 3:4
These sweet hair ties are easy to wear, and come with a precious reminder to adorn yourself with a gentle and quiet spirit before anything else.
They'll add the perfect amount of style to your everyday outfit.
Bonus: The also come in plaid - perfect for the holiday season!
A Scripture-Focused Art Print
Choose your favourite from the complete collection of art prints here.
A ready-to-frame print made for an eternity-focused home. Add it to a gallery wall or let it stand alone, it's beautiful either way.
Pictured here are 2 Corinthians 12:9 and Psalm 103:8.
Verse Memorization Tabs
"Why memorize it? Why not just read it carefully?" argued Susan, our Yale graduate. 
"Because what you memorize by heart, you take to heart," replied Dr. Nuttham simply. "Once you absorb the words, the words become your own. Then, and only then, can you mull them over on your tongue, appreciating them as you would good wine, enjoying them as the company of good friend. Besides, we always value something for which we've had to labor." Carolyn Webber in Surprised by Oxford
Memorizing scripture is how we take God's words and make them a part of our lives. It's how we think on them during our day and share them with others as needed. After all, from the overflow of the mouth the heart speaks! 
These Verse Memorization Tabs are how I memorize scripture. Grab a box, put these inside, and you're ready to begin! These tabs come with a "how to use" sheet. You can also see our method for memorizing here (it only takes 5 minutes a day!)
The Commissioned Keychain
Therefore go and make disciples of all nations... · Matthew 28:19
 The Commissioned Keychain is a genuine leather keychain, meant to send you off into your day with the reminder of your greatest mission.
Perfect for attaching to your favorite bag or adding a bit of class + color to the keys that love to get lost at the bottom of your purse.
Added bonus: It smells divine! A good whiff of leather is good for the soul, we're sure of it.
For more gift ideas for the beautiful Christian women in your life, watch our daily Instagram stories.