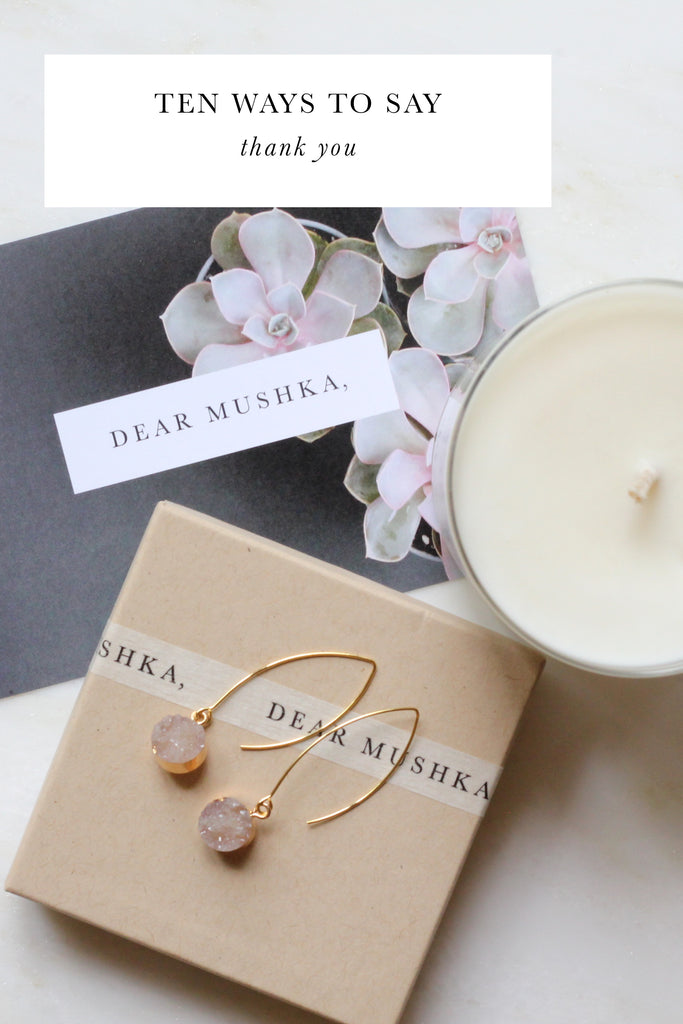 My favorite way to say "thank you" is to choose a piece + verse that displays God-honoring qualities I've seen in someone's life and to tell her through jewelry or apparel along with a little note. 


Here are ten+ pieces you can use to say "thank you." Send one with a note explaining how the verse fits what you see in her. And maybe with some chocolate, too :)  

1. The Salt or Cheer Necklace as a thank you for how she's always used her words to bring life, truth, and grace to your life or the lives of others.
2. The Befitting Earrings because she's made less of herself and more of Christ as she's served you or your ministry.
3. The Carried Cuff because you've felt carried by God through her kindness and support.
4. The Verb Necklace because she is a woman who is joyful in hope and faithful in suffering. Or maybe because she is a woman who is always taking Godly action! 
5. The Citizen Sweatshirt because she reminds you that this life is temporary and that something far better is coming. And you're so grateful you get to spend eternity together! 
6. The Daughter Earrings or Encounter Necklace because she has prayed so fervently for you during a hard season, and you're so grateful! Or maybe because she's quick to go do the throne of God, and you love that about her. 
7. The Essential Necklace because she is doing justice, loving kindness, and walking humbly. What a treasure! 
8. The Steward Bracelet because she's using her talents and giftings to serve God's kingdom so fully and you're blessed to watch it unfold. 
9. The Radiance Necklace because she shines the light of God. Or maybe because He has used her to remove your fears. 
10. The Servant Necklace because she has been such a servant to you or your people. You see her looking to other's needs and it's beautiful and Christ-honoring to watch!