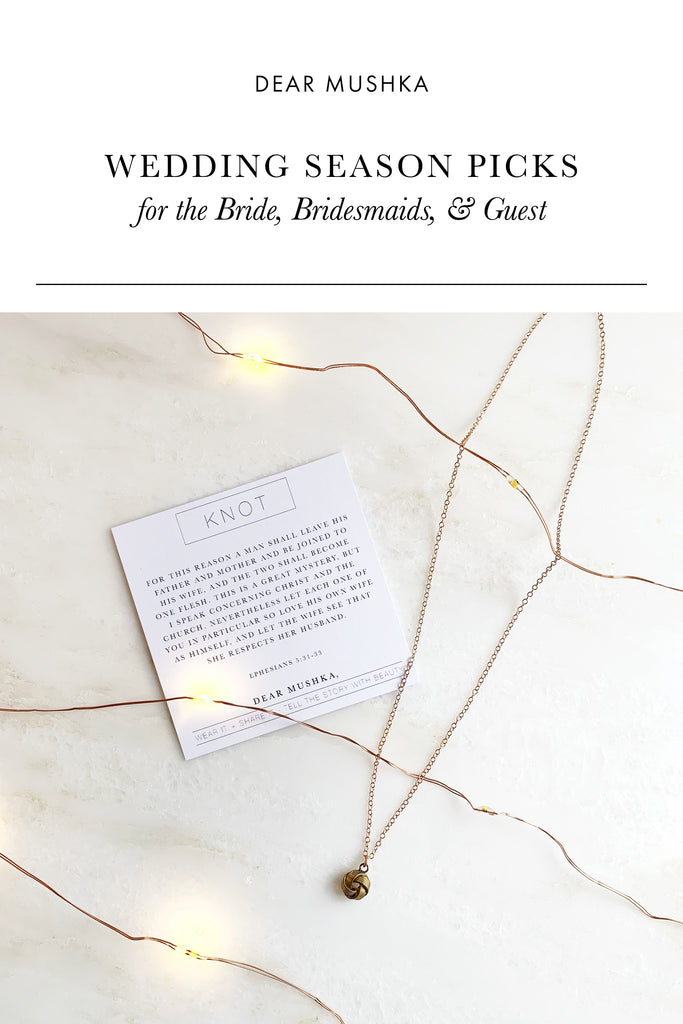 Wedding season is upon us-- here are my picks for the Bride, Bridesmaids, and Guests who want to bring a gift!
Bride:
1. The Pearl One Necklace for a simple, classic piece. Save it and hand down to a daughter one day! 
2. A No. 139 Necklace, Earrings, or Bracelet to honor your wedding month, acknowledge an important person who couldn't be with you at the wedding, or simply to add a little pop of color
3. The Believe Bracelet because your wedding day is a beautiful time to reflect on the promises God has made. Bonus: It's a little bit of pretty on your wrist for all those flower pictures!
4. The Befitting Earrings for a neutral and sparkly touch to your dress; they'll look lovely with your hair (and boast a reminder that we all need in marriage). 
Bridesmaid: 
1. The Comfort Earrings for just the right pop of color and a verse with a "thank you" for being a comforting friend. 
2. The Companion Bracelet as a promise that you'll stay friends and are so grateful for her love all these years. Choose the color that accents your wedding the best! 
3. The Kinship Necklace because you feel like peas in a pod and are honored to be a sister, through Christ, with her
4. A piece of your choice, as you read each verse and choose the one your friend most needs. She'll feel so loved and seen! 
Don't forget to add Bridesmaid/ Maid of Honor Packaging! 
To Gift:
1. The Knot Necklace to remind her that her marriage is a reflection of Christ's love for the church
2. The Servant Necklace because serving a spouse won't always feel easy, but it will be so worth it. Look to Jesus as your example! 
3. The Eclipsed Lg. Necklace with a sweet photo of the couple tucked inside. Aww!
4. The Called Necklace with her new last name initial, and "&" or the first initial of both her and her husband (she can add children's initials down the road).
5. The Progress Earrings with a note to remember that both she and her husband are works of progress in the Lord; give lots of grace and enjoy being sanctified together.