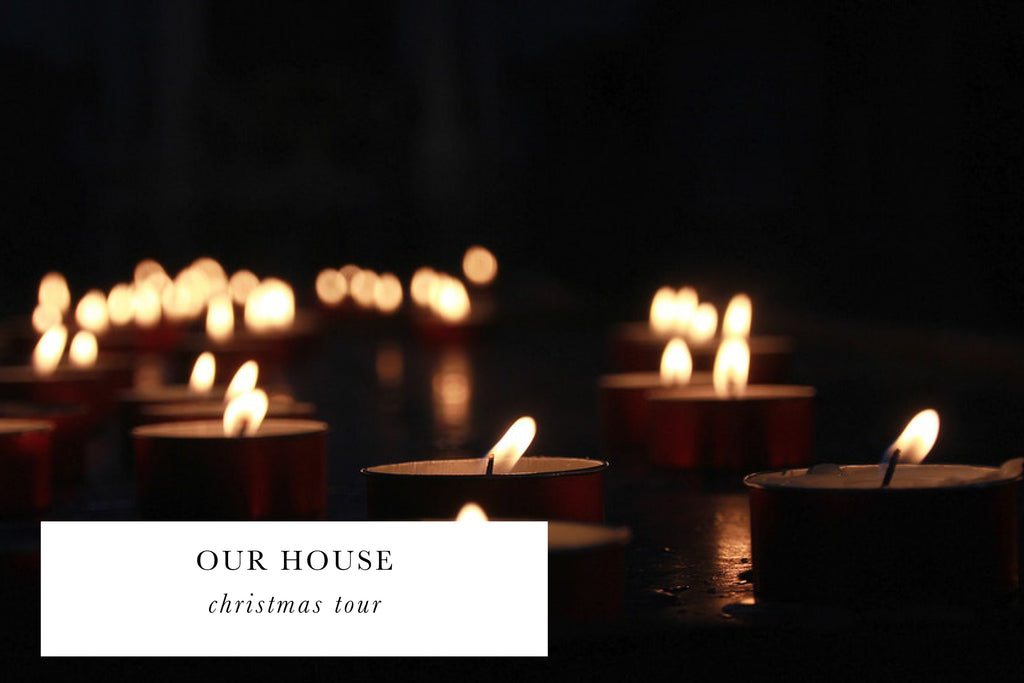 We moved into our house over the Summer so this is the first Christmas we're spending here. That always feels a little extra magical doesn't it? 
I promised you all a house tour months ago (whoops!) so I thought a little Christmas edition would be fun until I get around to a room-by-room post. Enjoy!
1. This fireplace is in the space we've turned into the dining room. We painted the brick and have plans to tile inside the no-longer-working fireplace space (and instead put a fireplace outside!) For now, the brass gate is up so that a certain toddler does not walk around soot-covered all day ;) 
I leave the "Give Thanks" banner up all November & December because it feels extra applicable around Christmas time. 
My favorite part is the The Little People nativity set in the corner. Mostly, my kids have fun throwing the people across the floor (#boys), but it also sparks sweet conversation. 
Mirror- Anthropologie (snagged on a big sale)
Small Trees & Give Thanks Banner- Target
White Bunting- Joann's Fabrics (I just snipped a few yards from a spool)
Brass Candle Sticks- Antique
Bigger Trees & Wreath & Basket- TJ Maxx
2. I found this dresser on Craigslist a few years ago and have loved moving it around from house to house. Right now, it's tucked into our kitchen and holds things like cloth napkins and table runners. 
The basket is for our mail and the large piece of art was a gift from my Dad a few years ago. It makes me think of him all the time :) 
I love layering in holiday pieces here for a little whimsy and fun. 
Abstract Art- One King's Lane
Born is the King Art- Salt Stains (she custom made this for me)
Nativity Art- Rifle Paper Co (I just framed a card)
Basket- Old
Wooden Tree & Lamp- Target 
3. I talked all about this book on this blog post & in my Instagram Stories (I saved them to my highlights-- "advent"), but this is where it will stay all month long. I leave this tray out on my kitchen counter as a constant call back towards God's word when I have a free minute. Having it right in front of my eyes has helped me keep my focus on Christ instead of social media.
Candle & Tree- Target
Tray- garage sale
Unwrapping the Names of Jesus- I'm so excited to begin this! 
Bible- I think mine is out of print, but this is a very similar option. 
4. Last year, we decided not to hang ornaments that didn't point our eyes back to Jesus. Of course, you can make so many things work (the rhino above... creation!), but it has been the sweetest way to turn our attention from a cultural Christmas to a Jesus-centered one. The boys love seeing their "first Christmas" photo ornament and talking about how Jesus came as a baby boy, too. 
5. This is the advent calendar I talked about on this blog post & in my Instagram Stories (I saved them to my highlights-- "advent"). It hangs in our dining room, where our Christmas tree is. Every morning, we'll pull out the ornament, read the corresponding verse, and hang it on the tree. I love how our tree displays the whole gospel story, from Genesis to Jesus, on Christmas morning. 
6. Our boys each have a touch of Christmas decor in their rooms, too. This banner is soft and perfect for little hands (we're getting really good at finding all the letters in "Merry Christmas"). 
And yes, that's the giant bear from Costco. My dad got it for Brooks three years ago and it is still a most-beloved item. 
Banner- TJ Maxx
Bed- Ikea
Sheets- Target
7. Another little peek at Brooks' room. Growing up, we always had a small tree of our choice as a night-light to use all season; I love passing down this tradition. It's the only colored-lights tree in the house and I have to admit, it's my favorite. 
8. We kept our kitchen pretty simple (although the two big windows are begging for some pine garland above them!)-- for now, just a wreath by the stove and a cozy cookbook in the basket is perfect. 
Basket- Target
Cutting Boards- Anthropologie clearance
Wreath- TJ Maxx
Book- The Year of Cozy 
9. This is my office & also our family library. It's my favorite room in the house, no surprise :) The chair is worn and faded so I just threw a king-sized coverlet on it and called it a day.
The art prints are so inspiring to me, four very different women all in conversation with one another. I often use it as a muse when I create new lines, picturing you all and your stories. 
Light- Pottery Barn 
Coverlet- I can't remember but here and here are similar
Pillow Cover- Etsy, shop no longer open 
Art- Elizabeth Mayville 
10. This is a cozy little spot in our living room. A flocked tree (from Goodwill!), a winter edition of The Magnolia Journal, and an extra blanket or two make a perfectly decorated space. 
We recently hung the gallery wall and, of course, I just want to stare at it all day long. My three men have my heart. xx
Frames- Ikea
Couch- Sprintz
Wire Basket & Tree- Goodwill 
Candle- Anthropologie 
Table- Overstock or Wayfair, I can't find a link. Sorry!
11. Here's a pulled back view of our living room. We added the walls to make the library on the end (it used to be one really long room) and use this space all day long, for reading and small groups and running in circles. The book basket on the table holds seasonal books, and my boys love to sit there and look through the new ones I put out. (Well, my 4 year old does. My 1 year old just likes to try to jump from the table to the couches...)
A bigger coffee table, piano, and maybe a layered rug are in the plans for one day, but I think there is such value in living in a space before you begin to add in/change too many things. 
Couch- Sprintz
Rug- Rugs USA
Table- Vintage
Art- DIY by me
Leather Chair- Vintage, from Robert's grandpa! 
Office Chair- World Market
***
As you can see, we love decorating with simple things (lights & trees mostly) that make us think of the Creator & Light of the World. Merry Christmas season, sisters. xx