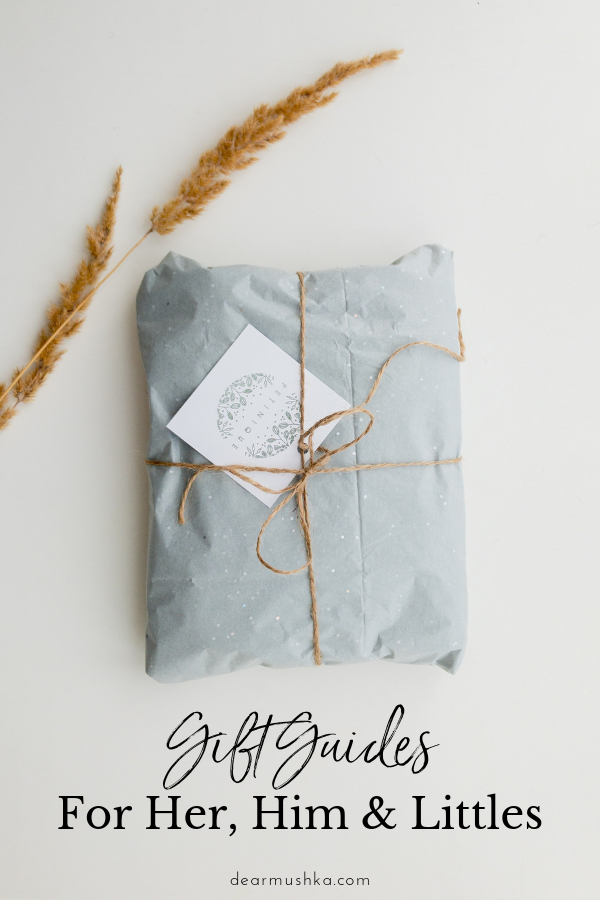 There are many ways to anticipate the arrival of Christ and to keep our hearts focused on Him-- lights, feasts, songs, service projects... and even gifts. 
James 1:17 says "Every good gift and every perfect gift is from above, coming down from the Father of lights, with whom there is no variation or shadow due to change."
God is the very best gift-giver. Not only did He give us His son, but also every other good and wonderful thing in our lives. He takes delight in giving good gifts to us, which is why we can find delight in giving gifts to those we love. It's a way we can reflect His image!
Here are some ideas as you start planning out your gift-lists. How can we be intentional and Jesus-focused as we love our people well? 
For Her:
1. Faithful Women and Their Extraordinary God- A short, inspirational book to remind her of the Godly (and very human) women who have gone before her.
2. The Promise Pack- 52 beautiful verse cards for her to put around her house or memorize, one for every week of the year.
3. A Dear Mushka Necklace- Because there is little better than jewelry that keeps our hearts and minds focused on Christ.
4. The Citizen Sweatshirt- It carries a forgiving fit and the much needed reminder that she is a citizen of Heaven. 
5. A Dear Mushka Gift Card- So she can pick the piece her heart most needs in this season.
6. Sing a New Song- A lovely breakdown of each Psalm for her to use as a guide when she's reading them. 
7. The Prayer Journal Pages- Help set her up for a more consistent prayer life in the New Year. Bonus: Print them off and put them in a pretty binder for her! 
8. Humble Roots- One of the best books I've read in a long time, she'll love it from beginning to end. 
9. An Art Print- Christ-focused beauty for her home. Bonus: Frame it for her! 
For Him:
1. ESV Scripture Journal Set- He'll have plenty of room to take notes inside; my husband uses these when He meets with some men to study scripture. You can also buy them individually!
2. 12 Ways Your Phone is Changing You- A really interesting, scientific, helpful read as he decides when and how to use his phone. 
3. Systematic Theology- The best (easy to understand) guide for his office on every theological topic imaginable. 
4. New Morning Mercies- A gospel-focused daily devotional that he'll absolutely love. Bonus: It could be read and discussed at the dinner table with the family!
5. A CS Lewis Set- Classics he'll want to read again and again. 
6. Candle- A perfectly manly scent for him to light as he opens his Bible and prays each morning.
7. Soli Deo Gloria Tee- Glory to God alone, forever and ever. 
8. Pens- Wonderful pens to mark up his Bible and/or journal with as he learns more about God.
9. Hillsong Art- Encouraging art for his office or space. My husband loves these song lyrics... what might be best for your "him"?
For Littles:
1. The Child Pack- Verse cards perfect for little hearts to memorize and learn the importance of. 
2. A Baby Believer Book- There are five in the series, each one lovely for young minds with bright colors and a clear focus. 
3. Getty Kids Hymnal- Beautiful music from Getty Kids made to get your family worshiping God through beloved hymns. 
4. God's Very Good Idea- A wonderful book on God's beautiful plan to make people different from one another. 
5. ABCs of the Attributes of God Cards- Is there a better way to learn your ABCs than to focus on God? 
6. The Biggest Story- Another ABC method of focusing on God. Theologically correct and helpful. Here's the (even better) version for older children!
7. Little People Noah's Ark- Perfect for bath time stories about God. They also make a manger scene option. 
8. Bible Infographics Book- A super fun book to look through and learn from!
9. The Precious Tee- Because it's true, no matter our race, Jesus loves us all the same.