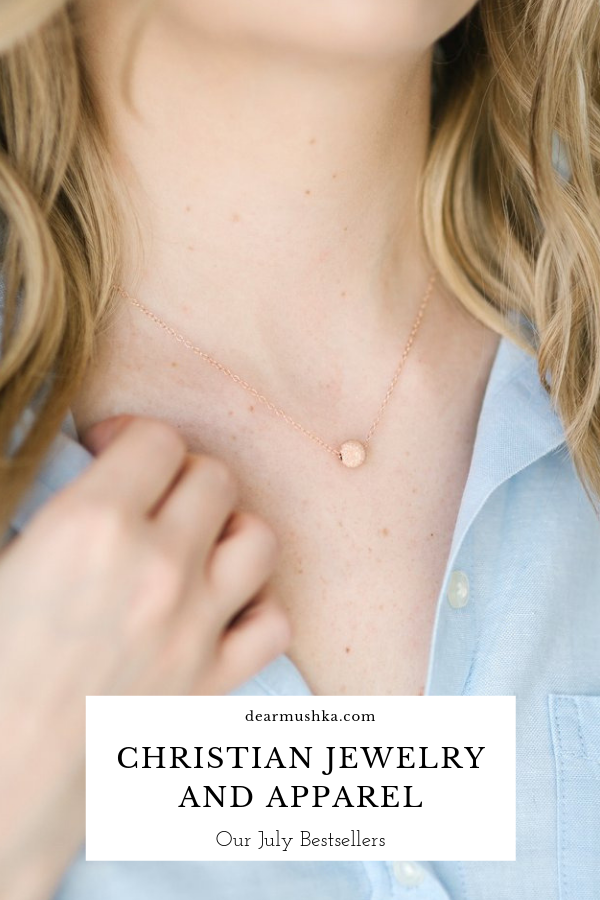 We're about to hit our 30,000th order here at Dear Mushka and we thought it would be fun to completely refund whoever places that order! So keep this in mind if you were thinking of ordering one of the July Bestsellers I'm about to share, or if you want to order a few pieces as gifts for you and your friends - if you hit the 30,000th order you'll be refunded 100%🎉
I hope it's you!
Many of the top ten items over here at Dear Mushka for this month are clearly gifts, and some of them are just for you, too. Yay! Let's count them down!
10 The Priority Rings
Slip the Priority Rings on your hands and remember to first seek God before whatever else your fingers run to - social media, to-do lists, etc. My prayer is that seeing these rings on your fingers will be a reminder to seek first the Kingdom of God.
I leave mine on all the time and they are so easy to wear! Feel free to get a few in different sizes to wear on different fingers, stacked or as a midi ring.
9 The Together Necklace
The Together Necklace comes in gold or silver and has three different verse card options to match the piece. It is our adoption necklace with the international symbol for adoption being represented as a triangle with a heart.
The triangle shows the three sides of an adoption - the birth mother, adoptive parents and the child. Our verse card options also match these three different people involved in an adoption.
We gave this piece to my sons birthmother and birth grandmother and they loved them! It definitely shows how much you value and love the birth mother, no matter the situation. If you're adopting or have a friend that is adopting, ADD THIS TO YOUR CART.
8 The Aid Necklace
The Aid Necklace comes in gold, rose gold and silver options. The design is a stardust bead and represents filling the hole in your heart that was created by loss. This piece is for miscarriage, loss of a loved one or any season of grieving. It makes the perfect gift.
7 But First Pray Shirt
This T-shirt was on sale this month and still is, however, we just have XL's left! It has football sleeves, is super cosy and covers your bum. This piece screams Fall outfit to me.
6 It Is Well Tote
This tote bag is the perfect size! It's a cute farmer's market bag, bible study bag or pool bag. I love the idea of this bag with your more quiet time items next to your chair - so cute!
It's an excellent add-on to receive free shipping or to gift it with a few goodies tucked inside. We are not going to restock these when they are gone so grab it now if you want to use them for your Christmas gifts!
5 The Renew Earrings
The Renew Earrings come in teal and and grey. I thought the teal would be a little bright but it's muted and so good! The grey feels so dreamy and I am loving them with a basic white tee. They come paired with a verse card from Romans 12:2 and remind us to sweep away the thoughts of this world to clear your mind and make room for what God calls good.
These would pair so well with a plaid or flannel shirt for Fall!
4 The Carried Bracelet
The Carried Bracelet has been in the Dear Mushka store for the longest time and continues to be a favorite. The design pairs so well with its verse and gives the imagery of God's arms wrapping around you. This piece is my go-to gift for baby showers or anytime someone needs a reminder that God is carrying you as you carry little ones!
Our bracelets are so good. They are made from brass, are super durable and you can adjust them for a good fit.
3 The Today Earrings
The Today Earrings are so easy to wear and I have literally worn them all summer. They are such a fun stud with their little detailing that catch the light. They come paired with a verse card that reminds us that this is the day that the Lord has made and that through Jesus, we can rejoice no matter what.
2 The Resolved Necklace
The Resolved Necklace comes in gold or silver. Wearing it reminds us that when we keep our mind focused on God (the moonstone) we will experience lasting peace. I love to pray on this piece with "Lord, show me where I'm not keeping my mind focused on you!".
1 The Companion Bracelets!
The Companion Bracelets are always in our top ten jewelry pieces each and every month. These come two to an order! Two bracelets, two verse cards for a take on a friendship bracelet. It makes the perfect gift for someone who has really been supporting you lately. I love the idea of gifting this with a note that says "thank you for lifting me up in this season".
There are 7 color options and they are very reasonably priced for two in an order. So many of you have told me stories of you and your BFF both buying a set for one another! It makes the perfect everyday piece and can be easily paired with a basic tee for a simple and put-together look.
I hope you enjoyed learning more about the designs behind these pieces and that you feel equipped to love your people well! Be sure to follow us on Instagram to watch our daily stories.