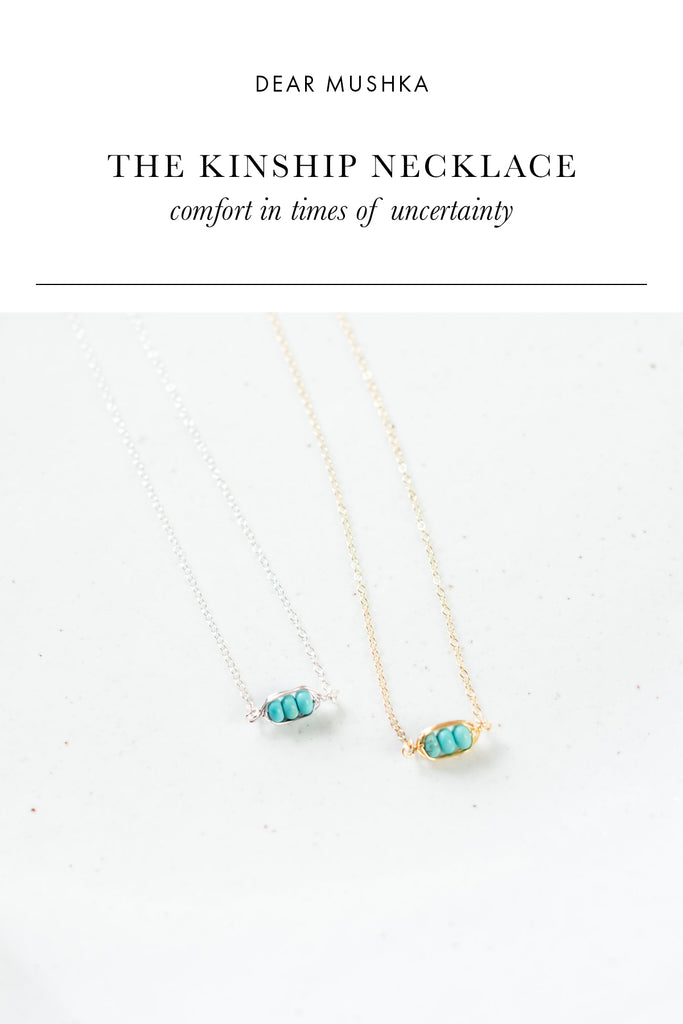 The Kinship Necklace is a personal favorite, one of my most worn pieces. It comes with a beautiful verse from 1 John 3:1, "What kind of love the Father has given to us, that we should be called children of God; and so we are. The reason why the world does not know us is that it did not know him."
The necklace was designed with three small beads made to look like little peas in a pod. Because God loved us and called us His children, we start to look more like Jesus and so look more like each other. Like peas in a pod, we are all daughters and sons of Him. We reflect His love to all who look at us. 
I feel this is such a sweet friendship or sister piece. The little pop of color will brighten up any outfit in a gentle and subtle way.  
Give this piece to a friend who could really use the reminder that she is a daughter of the Most High God. Maybe gifting this necklace is a way into a relationship with a new neighbor. The Kinship Necklace provides a little happy in times of uncertainty.  
As we look at what is happening in the world right now, when we feel like our foot is slipping, let's read this passage and cling to the truth. God has made us his children. Remember precious words from the Bible - if He has given us His Son, will He not also give us all things? He is the Father who gives good gifts to His children. He satisfies the hungry soul. 
When we're hurting, scared and lonely, we can rest in our daughtership. We will be okay no matter what happens if we stay safely nestled in Him.