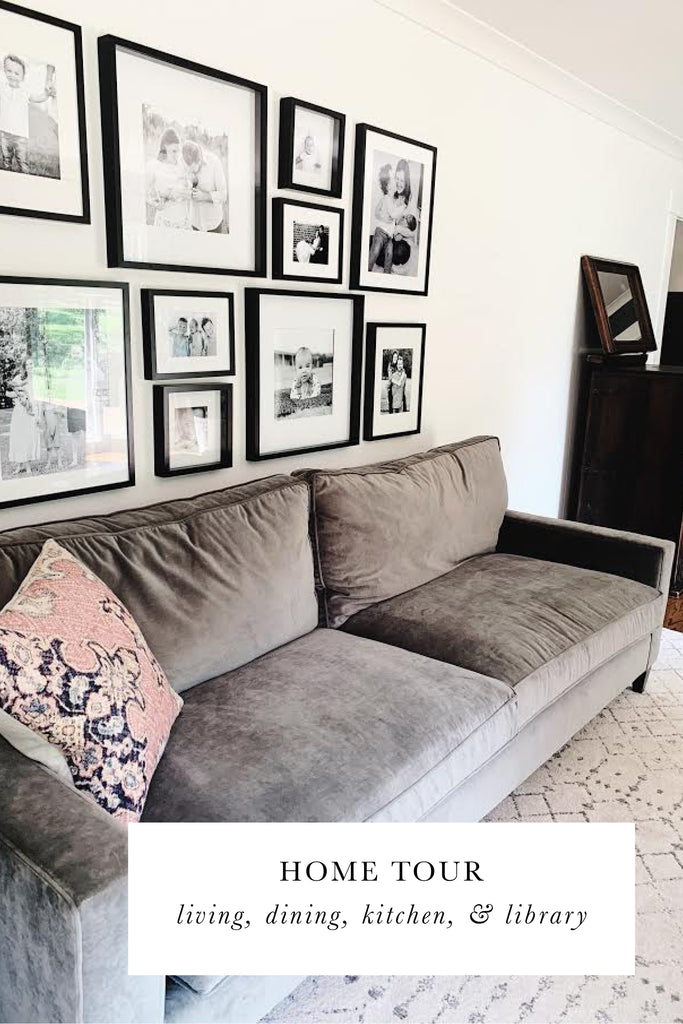 The home tour continues (part one here) with our living room, dining room, kitchen, and library/my office. 
Let's start in the living room. We mainly opened up narrow doorways, added walls to make the library on the end, and evened out all the floor levels the house had.
Wall color: Snowbound by SW
Frames: IKEA (Ribba variety)
Couch: Old from Sprintz
Antique Stand: From Clerks, my favorite local antique shop
Pillow Covers: Pottery Barn ( don't see them here, but linked in case I'm missing them!)
Rug: Rugs USA 
I mentioned that the rug stays clean because we have a no-shoes-in-the-house policy for our family. We don't enforce this with guests so shoes are definitely around some, but it's better than it could be!
Here's the other side of the living room. 
Curtains: Hearth & Hand
Art: Deann Art. Looks like mine is currently sold out, but there are so many beautiful ones!
Fiddle Leaf: Real! 
Baskets: Old from Target or TJ Maxx
Lamp: Old from Target 
Coffee Table: Wayfair
And the side leading towards the library!
The chair, cabinet, and globe are all antiques. 
The baby is not available ;) 
This is our dining room. Please ignore the giant leaning mantle, it belongs in the living room entry way and is too heavy for us to move alone. Ha!
Wall color: Snowbound on top, Peppercorn on the bottom. We did the panneling ourselves, it was a quick project. 
Light: Crate and Barrel
Table: Made by a family member
Chairs: Wayfair
Rug: Anthropologie (sold out)
Grey Cabinet (not visible): Target
Pom Pom Garland: Old from Target, hanging for a bday party :)
This fireplace was a little tricky to figure out, but it feels good and simple right now. 
Mirror: Anthropologie (I actually can't remember which one it is!)
Sign: Target
Flower Vase: Target (flowers are my dried ones)
Logs: Terrain
Basket: Target (we have these baskets all over, they're also on the living room coffee table, in the library and kitchen, etc)
The dining room attaches to our kitchen. 
Cabinets: Dorian Grey by SW
Green Wall: Homburg Grey by SW
Here's a picture of this space in action. We eat here most mornings for breakfast and the boys listen as I read or we listen to worship music. 
Here's one of the Bibles I mentioned.
This area will probably be a family "command center" one day, but for now its a cute little drop zone. 
Dresser: Antique
Lamp: Target (with those build yourself pieces)
Frame: Anthropologie
NY Print: Rifle Paper Co
Planter: Anthropologie
Plant: Home Depot
Books: These are my gardening go-tos! I'll do a whole garden post soon. 
And here's my office/library!
Baskets: Target
Prints: Etsy
Chair is old and covered with a coverlet
Pillow Cover: West Elm (old)
Here's the library in action. Our boys grab books and read in here all the time. 
Next week: The bedrooms!