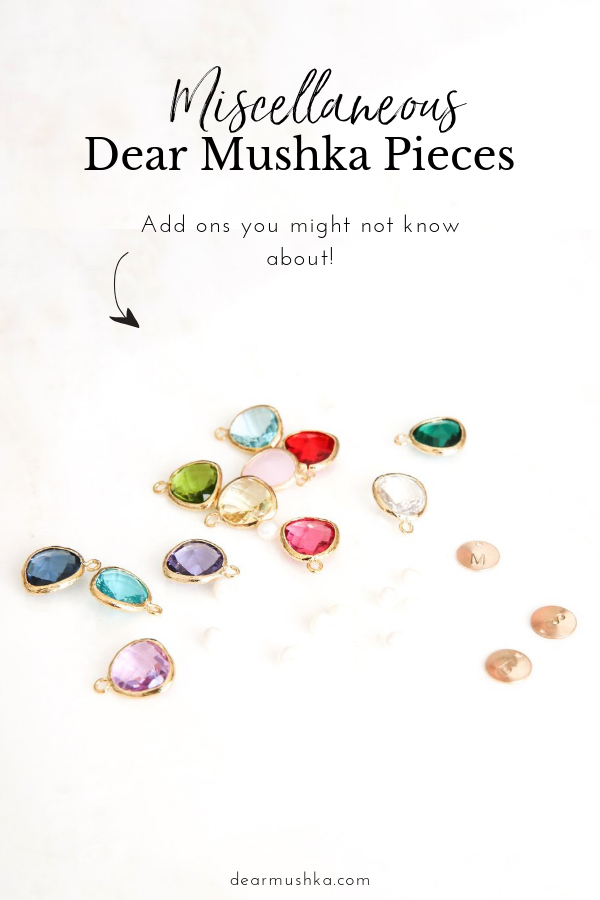 Today I'm sharing a few Dear Mushka products that you may not know we have. Watch the video to see the pieces or read through them below!
The first are some add-on's that you can add to basically any necklace you already have. These are perfect for necklaces with little hanging pendants to make them extra customizable.
The No. 139 Collection
We currently offering birthstone pendants as part of our No. 139 collection as bracelets, earrings and a necklace. They are little glass stones for each of the months of the year.
You have the option to add a birthstone pendant to almost any piece for a pop of color. They look especially good on long necklaces like the Plume Necklace.
Other Additions
Other great options include initial pendants, hearts, arrows, rings, pearls and Keeper tear drops to any purchased piece - you can find them here.
Our Trio Necklace comes with three rings but I love the idea of adding as many rings as you need to represent children, friends, etc.
I love adding a pearly on basically anything for a little extra feminine touch.
For these extra add ons you simple add your necklace and add on to your cart with a note to seller on the view cart page that tells use what to add to which piece for you💕
Replacement Chains
You'll probably need us to fix a broken chain, if this happens simply pop us an email or purchase a replacement chain.
We also have chain extenders available if you'd like to add an extra 2-3" to your necklaces. It's super simple to add! Just attach to the back and put your necklace back on. You'll soon be able to add a clasp to a long necklace, too. This is also helpful for layering necklaces.
I'll be showing you all some more of the custom designs you all create as they go out on IG stories because you are all so creative and create the most beautiful pieces that are so meaningful. I know these jewelry pieces are extensions of your hearts❤️